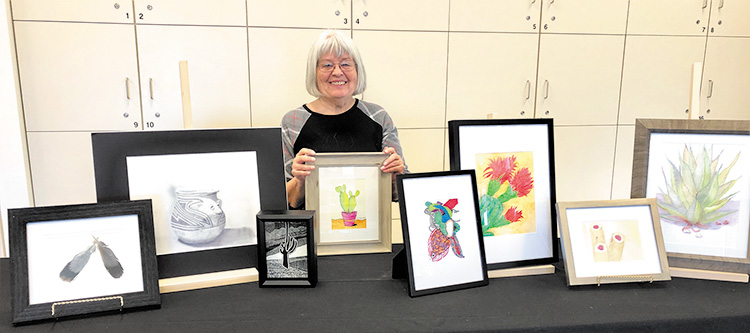 Nancy Friedman
JoAnn is one of those artists who started drawing early in her life. She also went on to major in art in college. Learning early after college the meaning of "starving artist," she was offered a job with a telephone company, where she worked as an electrician. She also met her husband during this time.
She held numerous interesting jobs during her life before retirement but always did art, especially with her children and now with her grandchildren. While living in Tucson prior to moving to Robson Ranch, she took many classes in colored pencil, which she shares in classes for the Fine Arts Guild. However, JoAnn doesn't just stop at colored pencil. She has tried all the mediums, except oils. She provides many interesting and easy classes for the Fine Arts Guild's Hot Summer Afternoons of Fun Art.
The Fine Arts Guild is happy to have JoAnn as one of our main teachers, a monitor, and Co-Education Director. You can see her work at the Fine Arts Guild's Studio II where it is also for sale.