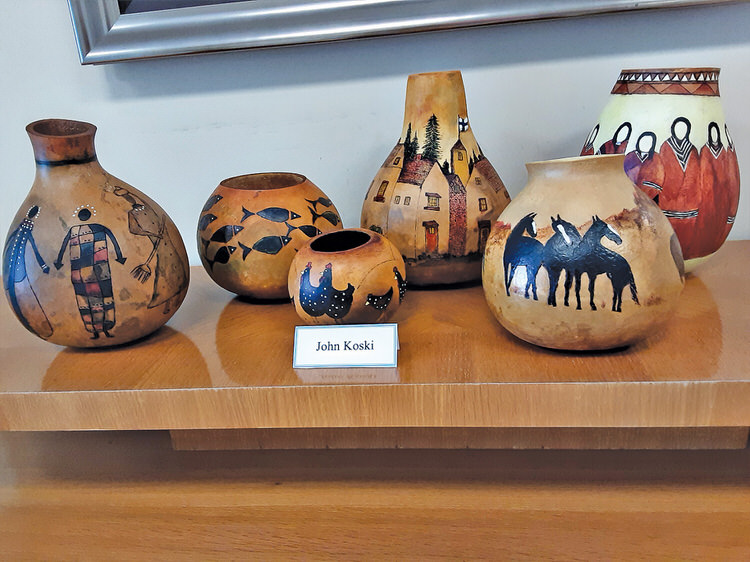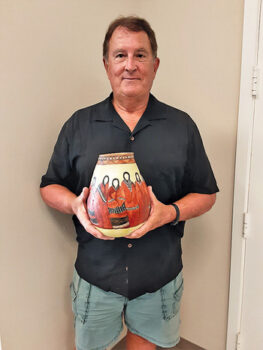 Martha Spillane
After many weeks of exchanges with Robson Ranch Gourd Club member John Koski, I was fortunate enough to sit with him for this interview. Chosen as artist of the month, I was curious to know more about our Robson resident.
I found John to be witty and yet modest, while still maintaining his point-to-point responses. John moved from Danville, Calif., where he held a corporate sales manager position for a major electronic/semiconductor firm. He moved to Robson six years ago and has made many friends, gotten involved in numerous clubs and committees, and can often be seen floating in the pool. It was during this time when he stumbled upon the Gourd Club and has been a member for the last three years and treasurer for the past six months.
John, what made you join the Gourd Club?
I was intrigued by the various shapes and unusual canvas.
He explained it was his opportunity to get back into painting, watercolors, and oils. Painting on a gourd was a different pallet entirely.
Do you have an art background?
I've always had an appreciation for painting, and now with gourds, I can bring what I already know—plus experimenting with woodburning, stains, and dyes has become a new art-medium for me. Painting on a gourd is very forgiving since it has a natural texture. I believe I've found my niche in southwest desert scenes. Living in Arizona, my inspiration is always around me.
Are your designs stenciled, traced or freehand?
All my drawings—people, horses, birds, and scenes—are all freehand.
Amazing, beautiful artistry.
Thank you.
What would you tell people who would like to try gourd art?
I would encourage people to expand their horizons in different mediums.
John, thank you for your time and insight into the wonderful world of gourds.
From the Robson Ranch Gourd Club, I'm Martha Spillane. Have a wonderful day.
More news coming to the Views. The Gourd Club will be participating in this year's Art Crawl scheduled for Nov. 20. More information to follow.
Orientation class will be held in October—look for that date.