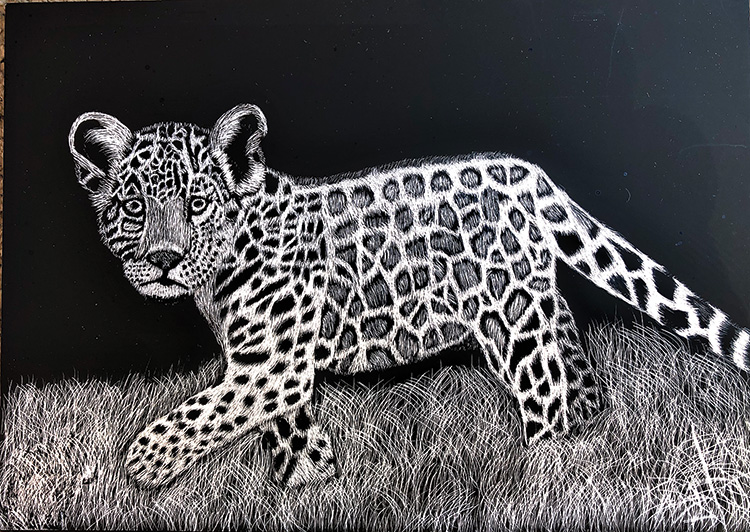 Nancy Friedman
The Fine Arts Guild is off and running in 2020 with beginner's presentations in drawing, watercolor, and scratchboard. You know what drawing and watercolor is all about, but many have asked, "What is scratchboard?"
Using the words of Stephanie Przybleck from study.com and Cathy Sheeter, who teaches at the Art Institute of the Arizona Sonoran Desert Museum, scratchboard is a form of direct engraving where the artist scratches off dark ink to reveal a white or colored layer beneath. It is considered both a fine-art medium and an illustrative technique, using sharp knives and tools for engraving. A basic scratchboard panel has three layers. The bottom layer or base is usually MDF board, for stability and a good foundation, covered with a layer of white clay which is then spread with a layer of dark ink. This top, thin layer of black ink is normally a carbon-based ink which is lightfast and resistant to fading. When creating an image by removing the dark to reveal the white, a dramatic image appears from the black background with a variety of textures. The Fine Arts Guild thanks Mickie Storckman for introducing and demonstrating this fine art medium to us.
By the time you read this article the Fine Arts Guild will have completed presentations in Color Mixing, Intermediate Watercolor, and Drawing, plus another Art Gathering for the month of February. Art Gatherings are held monthly and members join together just for a fun day of art. During the January 27 Art Gathering, Marc Capel-Jones demonstrated cartooning, and with the help of Kathy Arend, members went home with a cartoon postcard to send to a friend or grandchild. Everyone had fun and we look forward to more demonstrations by Marc and Kathy.
Weekly presentations are planned for March in acrylic and watercolor, plus the Fine Arts Guild will be looking forward to seeing you at our March 21 Open House, from 10 a.m. to 2 p.m, in Studio 2 of the Fine Arts Center. Come see us!