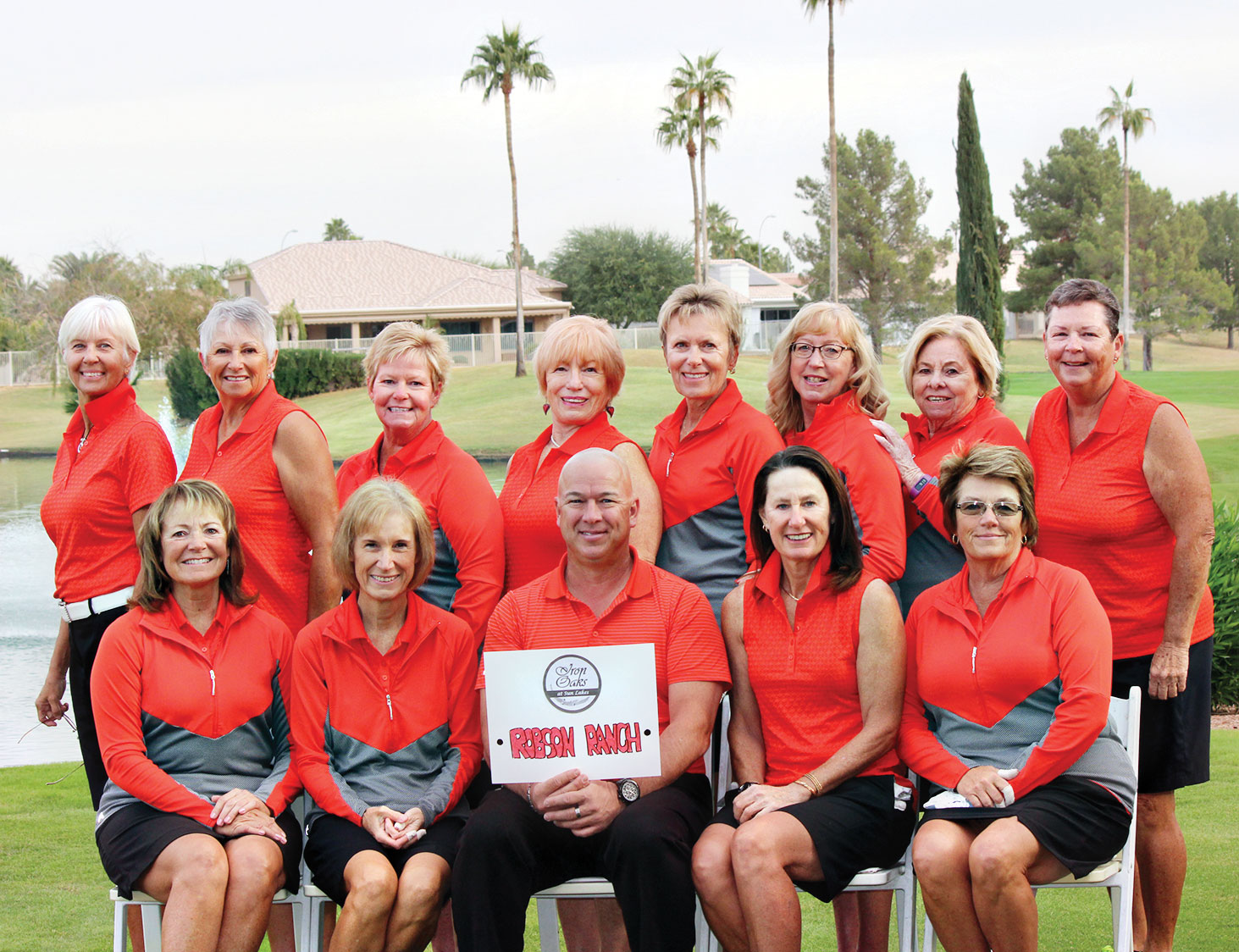 Barbara Gayer
The Robson Communities of SaddleBrook Ranch, Tuscany Falls, Mountainview/Preserve, Oakwood, Quail Creek, Robson Ranch, Eagle Nest and Ironwood participated in an annual tradition of competing in the Robson Challenge. This year's event was held at Ironwood on November 29, 2017. Each team consists of 12 players and their pro. Tuscany Falls won the round with a team score of 697. Robson Ranch placed sixth with a team score of 729. Even though our team did not win, our team spirit couldn't be matched. Our team did have some individual winners out of six flights: Flight 3 Candy Burtis 1st place, Flight 3 Susan Worner 2nd place, Flight 4 Cindy Jensen 5th place, Flight 5 Pam Mumy 2nd place. Congratulation to our four ladies that placed.
Results of November RRLGA Playdays:
November 7, 2017 (You Pick 9)
Flight 1: 1st Cindy Jensen, 2nd Bobbie Johnson, 3rd Fran Fowler, 4th Kathy Holwick; Flight 2: 1st Robin Barber, 2nd Lois Hammond, 3rd Betty Kumbera, 4th Margaret Erickson; Flight 3: 1st Mary Pryor, 2nd Pam Mumy, 3rd Teresa Baxter, 4th Dell Hoff; Flight 4: 1st Patti Baumann, Mona Rod, 3rd Jan Stocek.
November 14, 2017 (Member/Member)
Flight 1: 1st Jensen/Kumbera, 2nd Holwick Johnson, 3rd Dunlop/Hammond, 4th Eliuk/Hallock; Flight 2: 1st Pryor/Walton, 2nd Gayer/Kinley, 3rd Burtis/Syer; Flight 3: 1st DeChristopher/Lee, 2nd Desserault/Mumy, 3rd Tiefenthaler/Van Volkom.
November 21, 2017 (Pass the Turkey) 4-person team
1st Bellach/Fowler/Kasper/Madera; 2nd Worner/Jensen/Mumy/Rod; 3rd Bruchez/Dunlop/Poplawski/Pryor; 4th Hammond (Lois)/Holwick/Lamere/Miller; 5th Hammond (Lisa)/Kumbera/Peterson/Shepard.
November 28, 2017 (A day with the President)
Flight 1: 1st Shirley Eliuk, 2nd Karen Connell, 3rd Patty Bruchez, 4th Jan Kinley. Flight 2: 1st Robin Barber, 2nd MaryLou Walton, 3rd Glady Miller, 4th Char Burrill. Flight 3: 1st Mary Pryor, 2nd Carol Hallock, 3rd Seanna Madera, 4th Pam Mumy. Flight 4: 1st Mary Syer, 2nd Jan Stocek, 3rd Donna Shepherd, 4th Sharon Kasper.
RRLGA is pleased to welcome our November new members: Karen Fuller, Bev Guidinger, Dema Harris, Jan Harris, Sharon Kasper, Anne Lamb, Judy Le Febvre, Linda Stach and Linda Walker. If you are interested in joining the RRLGA please contact our membership chair, Robin Barber, at [email protected]