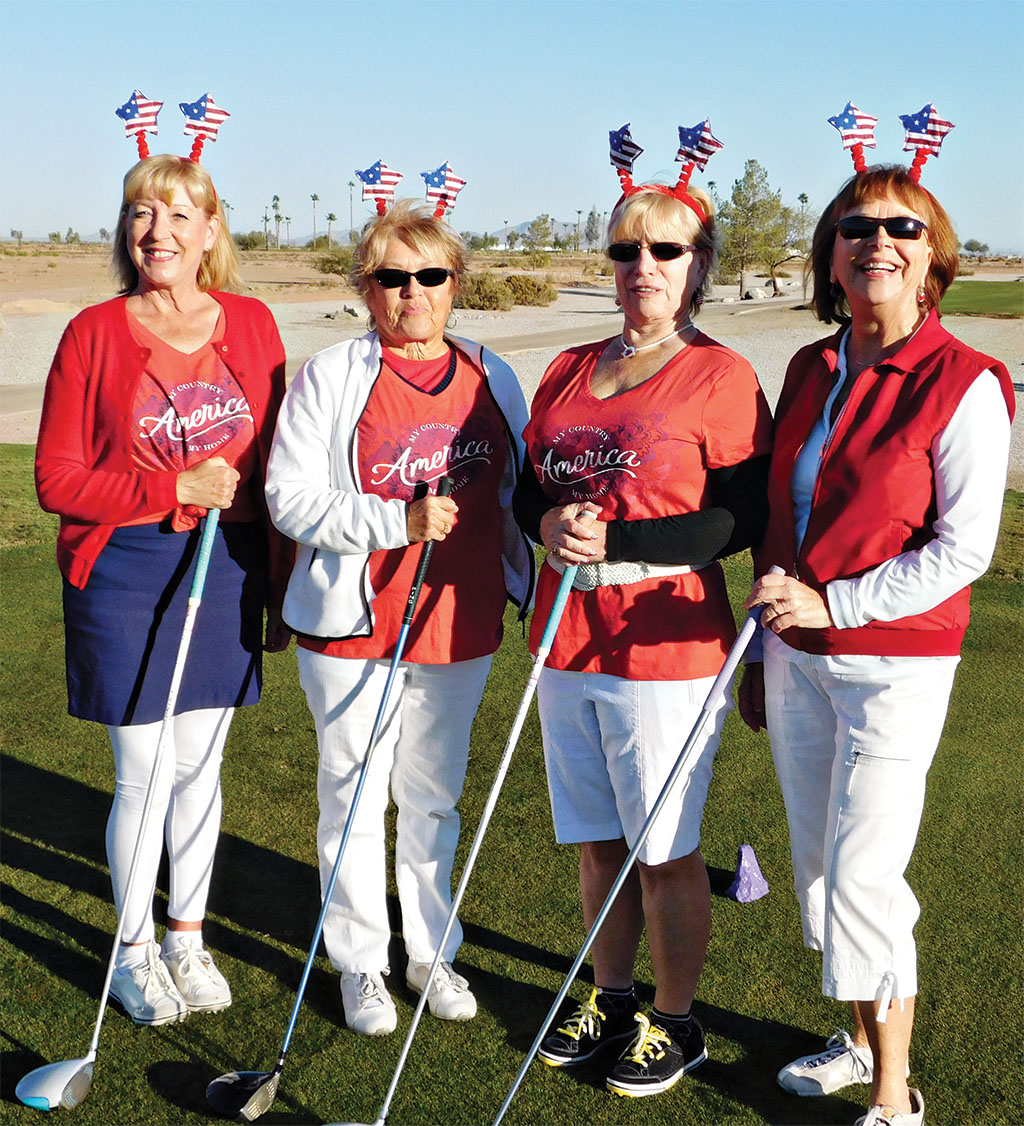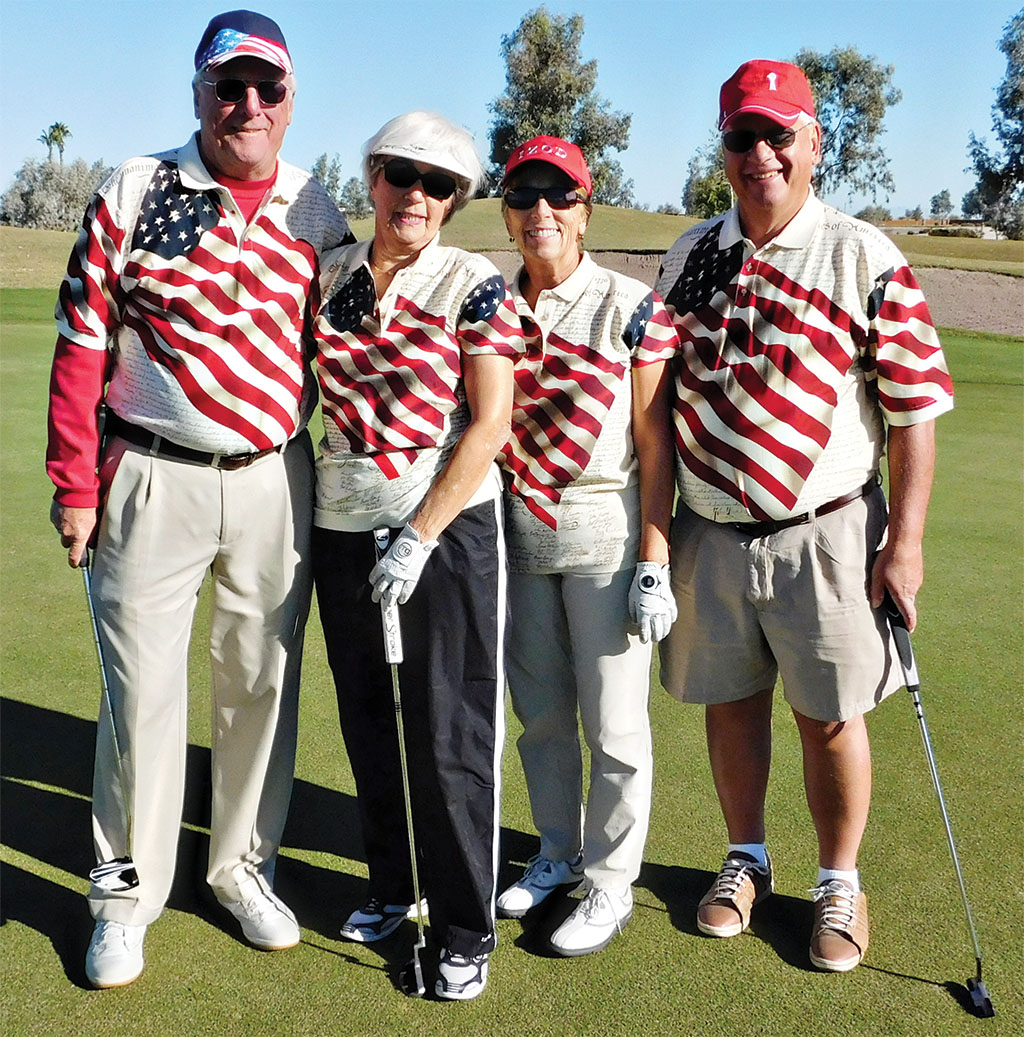 Our sincere thank you for the dedication, hard work, financial contributions as well as the many hours of volunteer work. We raised a net $42,006 to help our local veterans and troops in need!
Vounteers:
Allen Crawford, Tournament Chair; Steve Anderson, Auction/Donation Chair; Janie Rath, Volunteer Coordinator; Jane Kihlstrom, Baked Goodie Auction; Jim Ensweiler, Accounting; Layne Jones, Publicity; and the spouses who worked/supported all of these chairpersons. More volunteers sold raffle tickets, checked in the golfers, manned the golf holes, etc. We thank all who helped!
Everyone Else:
Our Bakers: scrumptious goodies raised $995 for our First Baked Goodie Auction. Thank you, Robson neighbors, who bid on these wonderful goodies and graciously shared during the live auction!
Our Basket Donors: fantastic raffle baskets, donated by our local "Ranchers" and many different businesses raised $3,650 to help us accomplish our mission!
Our Bidders: without you, this portion of our signature fundraiser would not be possible. Enjoy your winnings!
Teams: All the 152 golfers, a great big thank you! Congratulations to the winners:
Men's Team: Skydive Arizona
Ladies' Team: Char Rule, Bev Stevenson, Mona Rod, Gloria Lemere
Couples' Team: Candy and John Burtis and Teresa and Jim Baxter
Closest to the Pin Women, Judy Brozek
Closest to the Pin Men, Ron Hanson
Closest to the Line Women, Pam Mumy
Closest to the Line Men, Richard Shine
Putting Contest Winner: Jim Baxter ($130)
Highest Gross Teams earning a 30-minute golf lesson from Pro Jay Wilson: BJ Foster, Linda Carlberg, Carol Simmons, Linda Walker, Patti Baumann, Judy Brozek, Jan Stocek, Barbara Gayer
Sponsors: Your generosity raised over $30,735. Your contributions are the lifeline to our annual fundraiser, providing year-round support to our local veterans and troops.
Robson Ranch Golf: Jay Wilson and staff
Robson Ranch HOA/Corporate: Betty Murphy
Robson Ranch Food/Beverage: Heather Hardesty and staff
Auction Sponsors/Donations:
1. Earth, Water & Fire
2. Eloy Napa Auto Parts
3. Fuller & Son Painting
4. Home Depot
5. I&A Valley Maintenance
6. Phoenix Rain Gutters
7. Secure Retirement Solutions, Inc.
8. Sequoia Grove Winery
9. Sheraton El Conquistador CC/Troon Golf
10. Southwest Airlines
11. Sunshine Experts
12. Trane Air Conditioning
13. WeKoPa Golf Club
14. Marlene and Greg Coates; Rhineland Cutlery
15. Barbara and Tom Gayer-Eagle Landing
16. Jack and Armine Henningsen-Cabo San Lucas
17. Jerry and Judy Karpa – Copper Mountain, CO
18. Clare and Jim Law-San Diego
19. Javier, local electrician: a special thanks for the fan removal and generously providing future installations
Golf Sponsors:
Platinum ($1,000): Joanne and Jim Parkin; Napa Auto Parts, Corp.; Robson Communities; Secure Retirement Solutions, Inc.; Skydive Arizona
Gold ($500): Marylou and Tom Walton; Tommy Yotsuuye; Great Western Bank
Silver ($250): Ace Vending, Inc.; Pinal Hispanic Council
Bronze ($100): Connie and Bob Douglas; Janie and Gary Rath, Carolyn and Gerard Wittman; Norris RV; Walden Dental Group
Thank you all!