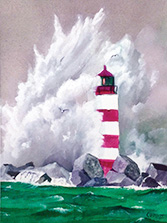 Deborah Dougless
Watercolor painting is the process of painting with pigments that are mixed with water. Of all the painting processes, watercolor art is all about thin washes and transparent color. Traditionally, watercolor artists work on paper. Oftentimes, the white of the painting surface will show through and lend itself to the glow of the painting.
Why try watercolor?
1) Watercolor is quick—you mix your paints fast, apply swiftly, and blend the colors.
2) Watercolor paintings dry fast, and cleanup only requires water to clean brushes.
3) Supplies are relatively inexpensive. Like all painting mediums, the three primary colors (red, blue, yellow) are all you need to mix any color. A tube of black and white will lighten or darken your color. You can pick supplies up at art supply stores or order online.
4) Watercolor is very portable; you can take it along in a backpack while hiking, or on vacation. You just need a small travel paint kit and a pad of watercolor paper.
5) You can use this medium to express yourself. Traditional pictures or whimsical, it's all about what you like.
The Fine Arts Guild invites you to join us and explore watercolor painting. As a member of the guild, you will be able to select classes added throughout the year. If you select a beginner's watercolor class, we have members who will help you develop your skills.
* During the week, we have a watercolor group that works on painting the same picture while being instructed on how to add colors to the picture. Don and Terry Helmstetter instruct on Tuesday afternoons from 1 to 4 p.m.
* On Thursday mornings (9 a.m. to noon) we have Doreen Beers available to guide the new watercolor painters. This allows new painters more one-on-one assistance.
* Susan Halley does not have a set day or time, but you most likely will find her hanging out with Doreen on Thursday mornings. If you want a more whimsical picture, Susan is the person to talk to.