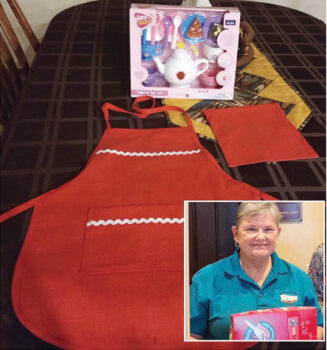 Bev Douglas
What does it take to be a generous giver? That is a question we could ask Renee Kleinjan.
Renee is a seamstress who gives her time and sewing talents to create items for Operation Christmas Child Shoeboxes.
For several years Renee has been creating pencil pouches, aprons, headbands, and bags to be included in the Shoebox gifts.
Renee has spent many hours sewing over 1,500 pencil pouches a year for the OCC project. She creates beautiful aprons that any little girl would cherish. The fabric, notions, and trims for each project are carefully chosen. Her bags have earned her the name of "Bag Lady," at Ritter Ranch, a retreat for seamstresses. Renee also generously gives her time to support other local charities with her numerous sewing projects.
Renee began sewing as a young girl. She made her own dresses so that she could attend school dances. Over the years Renee sewed her own clothing, and clothing for her daughter and granddaughters. She said her inspiration to sew for OCC came from projects she saw that were created by other seamstresses at the Chandler Baptist Church.
Renee and Lee have been residents of Robson Ranch for four years. They moved from Minnesota and now they greatly enjoy their neighbors and friends of RR. They are often found volunteering at the Eloy Food Bank and serve each year at the annual Robson Operation Christmas Child Shoebox packing party. Renee and Lee are members of the Vagabond RV Club here at the Ranch and enjoy RV travels. In addition, Renee is active in the Ladies Social Club.
If you see Renee around the Ranch, give her a shout out. The items she provides to OCC Shoeboxes are remarkable, not just in quantity but in quality. Renee is the definition of a true giver.
If you would like to learn more about Operation Christmas Child and how you might become involved, please contact Dave or Bev Douglas at 520-876-4363.