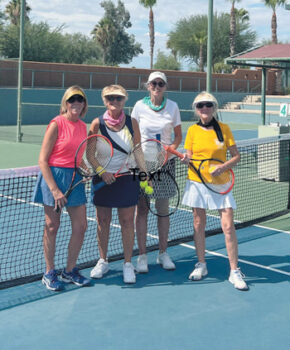 The summer heat arrived on June 30, and the higher-than-normal temperatures didn't go away until later in August. But that didn't stop the women's tennis players!
Armed with lots of water, electrolytes, and plenty of ice, four to six ladies showed up to play tennis at 7:30 in the morning. Knowing how to beat the heat, a few extra minutes were taken at the turn; everyone made sure to pace herself.
The cooler weather will be a welcome relief, however, and more players will hit the courts. Two inter-community mini-tournaments, an end-of-the-year meeting, a U.S. Open Women's Finals social, and Friday Night Socials are planned for the fall.
Are you interested in getting back to tennis? Joining in the socials? Meeting new people and playing some competitive games? Contact any of the executive board members; contact information is posted on the bulletin boards right outside the Sports Club. We'd love to help you get connected!