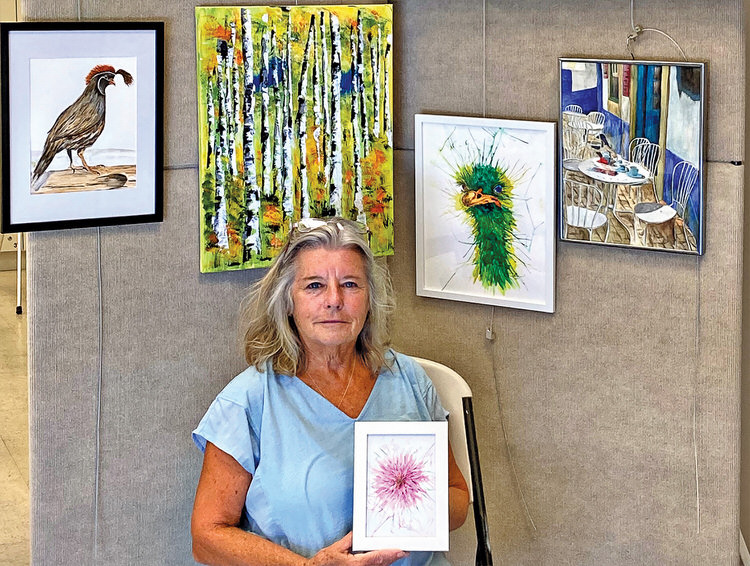 Deborah Dougless
Susan Halley and her husband Dennis have been homeowners at Robson Ranch for nine years. They are self-employed from Parker, Colo. and have expanded their business to Arizona. They found Robson Ranch a wonderful halfway place between Phoenix and Tucson, and knew this would be an ideal place to retire.
Susan has always loved painting. While raising three boys, taking care of her parents, and working with her husband in their photo business, Susan did tole painting (decorative painting on objects) with a group of ladies. So, it is no wonder that she joined the Fine Art Guild.
Acrylic painting is Susan's preferred medium, and Nils Johnson has helped her explore using a larger canvas and painting technique. Her paintings are very realistic.
Doreen Beers' watercolors had always impressed Susan. Susan decided to expand into watercolor and has spent time learning some of Doreen's watercolor painting tricks and techniques. During these sessions and after a few mishaps, Susan discovered a hidden crazy (eclectic) style of bright colors and wildness of birds, fish, and animal portraits. Those paintings make Susan smile and giggle.
Susan finds the most rewarding part of the Fine Art Guild are all the diverse people with varying skills in different artistic mediums. Susan encourages anyone who would like to explore their hidden talent or expand their artistic abilities to come see the guild and interact with the members.