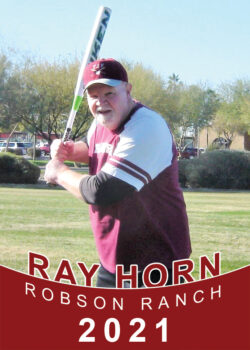 Ken Muhlbeier
Winning the city softball title at McKinley Elementary School in Tacoma Washington with only one loss on the season was an important first step for their third baseman Ray Horn. Even though his favorite team was the Brooklyn Dodgers, the sixth grader tried to match his swing to that of Ted Williams.
"Although he hit left-handed, I tried to copy his swing from the right side," Ray said.
Everyone deserves a good coach and Ray found his early.
"Dan took time to show me how to field correctly and throw to the appropriate base," Ray said. When young Ray asked his little league coach where he learned his baseball, he replied that his friend and mentor growing up was Johnny Pesky who went on to become the shortstop for the Boston Red Sox.
A few years later Ray took the opportunity to try out for third base in the city Babe Ruth league. After introducing themselves, the players went to their chosen position where Ray was greeted by a short, bow-legged player that some of the other players referred to as "penguin". Shortly after that try-out Ray asked the coach if he could move to first base, the reason, of course, was Ron Cey. "The Penguin" would go on to become the All Star third baseman for the Los Angeles Dodgers.
Football became an important part of Ray's athletic endeavors while in high school. In 1963, Ray played center for Lincoln of Tacoma in a game that came to be referred to as the Fog Bowl. "The fog was so thick that if a runner got past the line of scrimmage it was a touchdown because the defenders couldn't find him," he explained.
Ray played football in college until an injury ended his career.
As a life-long fan of baseball and softball, Ray had a rare and unforgettable experience in 2005 while attending a Seattle Mariners game. Decked out in his Mariner jersey and hat, he and his wife Irene were greeted by a man with a clipboard and a Mariner I.D. badge.
"He asked if we knew that it was Fan Appreciation day at the park. After admitting I was not aware of that I was even more shocked when he asked if I wanted to throw out the ceremonial first pitch. I was extremely excited and immediately said yes! There were 40,000 people in attendance for that game and I was on cloud nine walking out to the mound," Ray explained. Mariner relief pitcher Jeff Nelson was at home plate to receive the strike thrown by Ray and be part of a life-long memory.
Senior softball has been an important activity for Ray for fifteen years. Being a snowbird, he currently plays softball year-round including many tournaments in Washington and Oregon. Additionally, Ray has been an active player at the Senior Games in Huntsman, Utah, winning both gold and silver medals over the last 11 years.
The Robson Softball Club appreciates Ray playing on both league and tournament teams and contributing to club activities. He credits his wife, Irene, as an inspiration and a sounding board for his play. Thank you, Ray, we wish you many more happy years of softball.