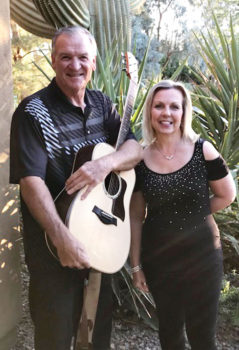 Nick Stchur
If you have not yet had the pleasure of hearing Robson's own Sierra Sound, make sure to watch the Robson Ranch Next Door Neighbor website to see when and where their next performance will be. You won't be disappointed!
My friends Kim Gibbs and Ken Muhlbeier have been performing together as Sierra Sound in the Casa Grande and surrounding areas for over two years now. They formed the partnership after Ken's former band "Used Kar" disbanded when one of the other band members relocated.
Kim, the vocalist for the group, has also been a member of the Robson Ranch Singers for over seven years.
Ken plays electric and acoustic guitar along with the banjo. He has been playing guitar since he was eight years old and has performed in bands his whole life.
Sierra Sound has a large playlist with a wide variety of music including country, pop, blues and jazz. They have played at several venues in the Casa Grande area including here at the Robson Ranch Tack Room, SaddleBrooke Ranch, and many local restaurants.
My wife and I have attended and enjoyed many of their performances.
Their music is a fine addition to this community!