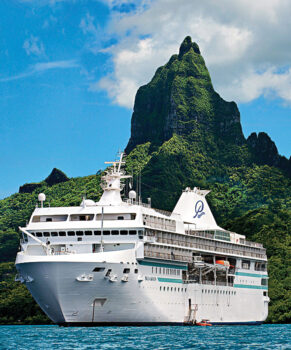 Kimo Dejon
Joe Murauskis and Angela Meade created a fun loving and wanderlust travelling band of residents here at Robson Ranch. They have organized many outings over the past couple of years, and have quite a few trips scheduled for this year and 2021.
As membership approaches 200 rovers—and growing, they are planning what is, to this point, the grandest and most exciting trip of the club's destinations.
Head rover Joe and his wife Pat are avid cruisers and have taken numerous cruises around the world. However, Tahiti has been on the radar screen, but has yet to be conquered.
Fellow club member Kimo Dejon, who moved to Robson Ranch from Kona, Hawaii three years ago, is a Professional Travel Advisor and heads up his company Aloha Adventure and Leisure Travel. Kimo's travel agency is a proud member of Avoya Travel/American Express Travel Consortium, a global powerhouse in providing custom quality travel and vacation packages, wherever your wanderlust dreams can take you.
The company's tag line is "we take your lifelong wanderlust dreams and turn them into your precious lifetime memories."
Most of the travel business the company provides is geared towards their large client base of baby boomers and active seniors, not just in America, but they have clients around the world.
The company is also a certified Paul Gauguin Cruises PEARLS Accredited Partner – which is the cruise company that club members who are joining this adventure will be sailing on. The Paul Gauguin is the world's best rated midsize cruise ship and provides its 332 guests with an all-inclusive voyage throughout Tahiti and French Polynesia.
Kimo is also a Certified Tahiti Specialist, an award given to just a few hundred travel professionals in the world, by the Tahiti Tourisme Board.
The specific cruise that the Roving Ranchers (who have already signed up) will be taking, is the ten-night Society Islands and the Tuamotus on Feb. 3, 2021.
Planning this far in advance is a must for cruising on the fabulous Paul Gauguin, as Kimo confirms that due to its international reputation as the very best Tahiti/French Polynesia itineraries, the Paul Gauguin books up to nine or ten months in advance for most of its cruises.
All of the Roving Ranchers/Robson Ranch residents will have comfortable balcony staterooms on the Paul Gauguin, and as it is an all-inclusive voyage, none will have to worry about paying extra for anything!
Some of the islands the group will visit include: Huahine, Moorea, Rangiroa, Bora Bora—the most beautiful island in the world—and more.
This bucket list trip will also include flying into Papeete, the capital of Tahiti, two days early. This will allow the group time to relax and to become familiar with the local flavor. Kimo will be personally providing a guided visit to the downtown area to visit shops, restaurants, and other parts of the island as requested by the club members.
When arriving into Papeete after flying from either Los Angeles or San Francisco (the members will have their choice) they will be escorted to the beautiful InterContinental Hotel, Tahiti's top choice for international travelers.
The enthusiasm and excitement for this wonderful getaway is growing by the week and already approaches 30 committed members. Kimo expects the number will increase to around 50 members in the next few months.
If you have questions about joining this wonderful getaway to Tahiti/French Polynesia, give Kimo a call at 541-480-8586.