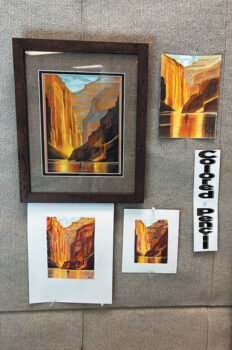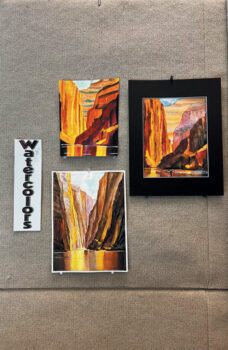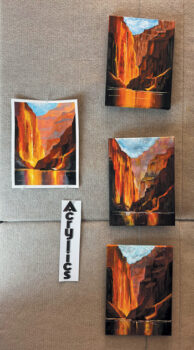 The Fine Art Guild has enjoyed all of the enthusiasm with our returning artistic members and all the new members. This spring we have four weekly workshops with very high attendance. The workshops are for beginner or intermediate watercolor, acrylic painting, and colored pencil enthusiasts. We find that the workshops are very popular, and they are free to all members.
A few years back we held a wonderful class on painting a canyon with an amazing sun reflection bouncing off the canyon walls and water below. This year we decided to challenge all three mediums to do this same project. This original painting happens to be the work from an Arizona artist's collection. Charles Pabst is known for his landscape painting of the southwest outdoors. We found this was an excellent project to work on our color mixing, reflections, shadows, and bright light source direction with vertical and horizontal lines.
Our art guild does want to acknowledge Pabst for his amazing talent that inspired us to see nature from his perception. Please look at more of his artwork on his website at www.chalespabst.com. He has painted this same brilliant canyon several times from different perspectives.
We want to thank all our members for displaying their artistic talent, paintings, and drawings in our hallway showcase. Our display showcase changes weekly, so please come by and see our talented members' work.
If you have any desire to paint or draw, please join us. No experience is necessary.