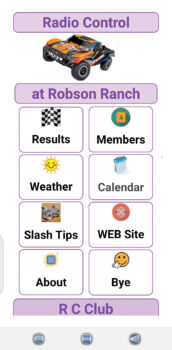 Butch Spiller
The Robson Ranch Radio Control (RC) Club has developed a mobile app for members, to help keep communications open between members.
The app was developed by Dave Doughty, club webmaster. "I needed something to keep me busy during the pandemic lockdown," according to Mr. Doughty. The app displays results of the RC car races, a list of club members and the ability to phone or email any club member with one click, the weather at the RC Park for RC flyers, a club calendar of events, and tips on fixing common problems with RC cars. Board members also can send "push" notifications directly to club member phones.
"During these times when communications are difficult, this will make contacting other club members much easier," according to Butch Spiller, club president.