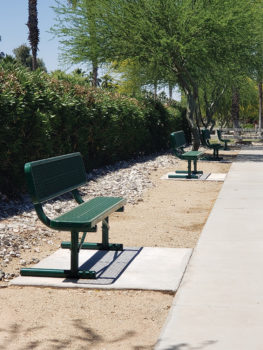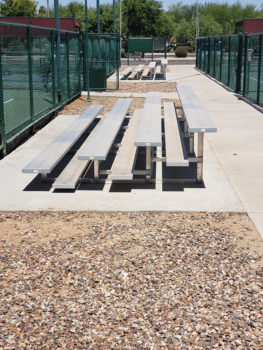 Win Oppel
The Robson Ranch pickleball courts had additional seating added this spring. Eight new benches and two sets of bleachers were installed in early March. The benches were placed along the Robson Boulevard side of the courts, with a bench centered just off the walkway behind each of the back courts. Two sets of five row bleachers also were added to the courts. These were installed along the west side of the center walkway and face courts 5 and 12. This additional seating came in handy for the 2020 Desert Slam Tournament.
The Robson Ranch Pickleball Club paid for the installation of the concrete pads along with the benches and bleachers. The funds for this project came, primarily, from the profits of the Desert Slam Tournaments of 2019 and 2020. The HOA assisted in this project by having their staff remove the vegetation that was growing where the bleachers were to be placed.
Club President R.C. Weider and Club Vice President Win Oppel coordinated the project for the club with Robson Ranch General Manager Melani Caron and Director of Fitness & Wellness Lois Moncel.