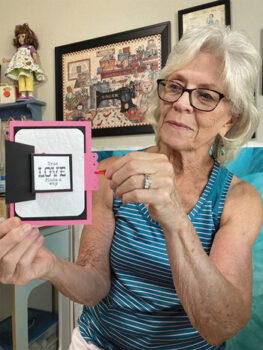 Jaine Toth
After 30 years working at a Ben Franklin Crafts store, where she oversaw the crafts, fabrics, and picture framing departments, Lorraine Walden developed a plethora of artistic skills. She quilts, sews, crochets, refinishes furniture, makes jewelry, hand-paints stunning coasters, built her own hanging light fixtures, and she scrapbooks and loves creating handmade greeting cards. I'm sure I've probably missed several others.
Upon retiring 13 years ago, Lorraine and her husband Jerry spent three summers working at Yellowstone National Park. When they realized that summer was the best time of year at home in Washington state, they noted, "This is silly. Summer is the best time of year in Washington." They decided to try spending winters in Arizona instead. Since they were moving into a small park model in Surprise, she gave away a lot of her crafting materials, including all her paper crafting supplies. Three years later they moved up to a Village Home at Palm Creek in Casa Grande, where they also lived for three years. After a cousin bought a home at Robson Ranch, they followed and now live in a Villa here at the Ranch. The magic number (three years) has arrived, but they have no plans for any new relocations. Robson Ranch is now their full-time home.
Lorraine works in her craft and sewing room on various projects, which includes the scrapbooks she's creating for each of her grandchildren. She makes cards at home, but works on them at the Creative Arts Center as well. She joined the Paper Crafting Club two years ago and started to restock her paper crafting paraphernalia. Lorraine continually awes all of us with the interesting card designs she comes up with after perusing Pinterest and YouTube for new ideas. Occasionally she teaches a class on some of the more unique ones she's discovered.
Giving cards is a joy for Lorraine because of the excitement it brings to people. She loves hearing recipients say things like, "I can't believe it—you really made this yourself? How ever did you do it?" Their smiles and tone of voice say as much as the words of appreciation, and this motivates Lorraine to keep challenging herself with new projects.