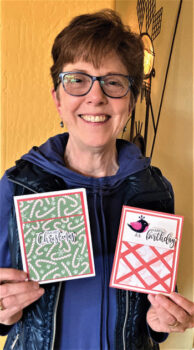 Jaine Toth
A fairly new resident of Robson Ranch, and even newer to the Paper Crafting Club, Mary Anne Sandoval revels in the creativity it engenders and refuses to be daunted by the plethora of possibilities offered in this art form. Rather, she considers it one more activity and learning experience offered here at Robson Ranch where, Mary Anne tells friends and relatives, "it's like living permanently at an adult summer camp."
She and her husband Michael have been visiting friends John Weil, best man at their wedding, and his wife Phyllis Wise at Robson Ranch for about six years. In 2021, they rented a house for the month of February. After returning to the winter weather in Portland, Ore., they thought about renting for two to three months the following year. But when they got off the plane and were able to shed their winter coats and snow boots, they decided to buy a home here instead.
Mary Anne and Michael quickly joined line dancing and couples dancing. Then Mary Anne read a member profile in the Robson Views for the Paper Crafting Club and decided to check it out. She took Michele Skinner's class on creating a lattice effect for cards and she was hooked. She joined in October of this year and seemed startled when asked about being the subject of a member profile herself since she's a brand-new member and just a rookie card maker. But new or veteran member, novice or highly proficient paper crafter, everyone has an interesting story that will, perhaps like it did for her, interest another of you readers into checking out our group.
Mary Anne sent the first card she made in the lattice class to a niece who "thought it was great." She made another card and had fun embellishing it with bling—lots of bling, "I got carried away," she admits, "and should have given more thought to placement." That's all part of the learning curve. You have fun trying things and learn what will work better next time, continually improving your techniques. That card went to Mary Anne's sister whose grandkids will love seeing the sparkles on the card. She laughed and said, "It helps to have a forgiving audience who are supportive and not critical."
Bookmarks are on her to-do list for paper crafting. They make excellent gifts. She also plans on making Christmas cards this year for a select few. Perhaps next year she'll feel confident enough to expand her list of recipients.
Beyond the creative fun, Mary Anne appreciates getting to meet so many warm and friendly people. "I came with absolutely no experience or skill, and people have been so welcoming and helpful."