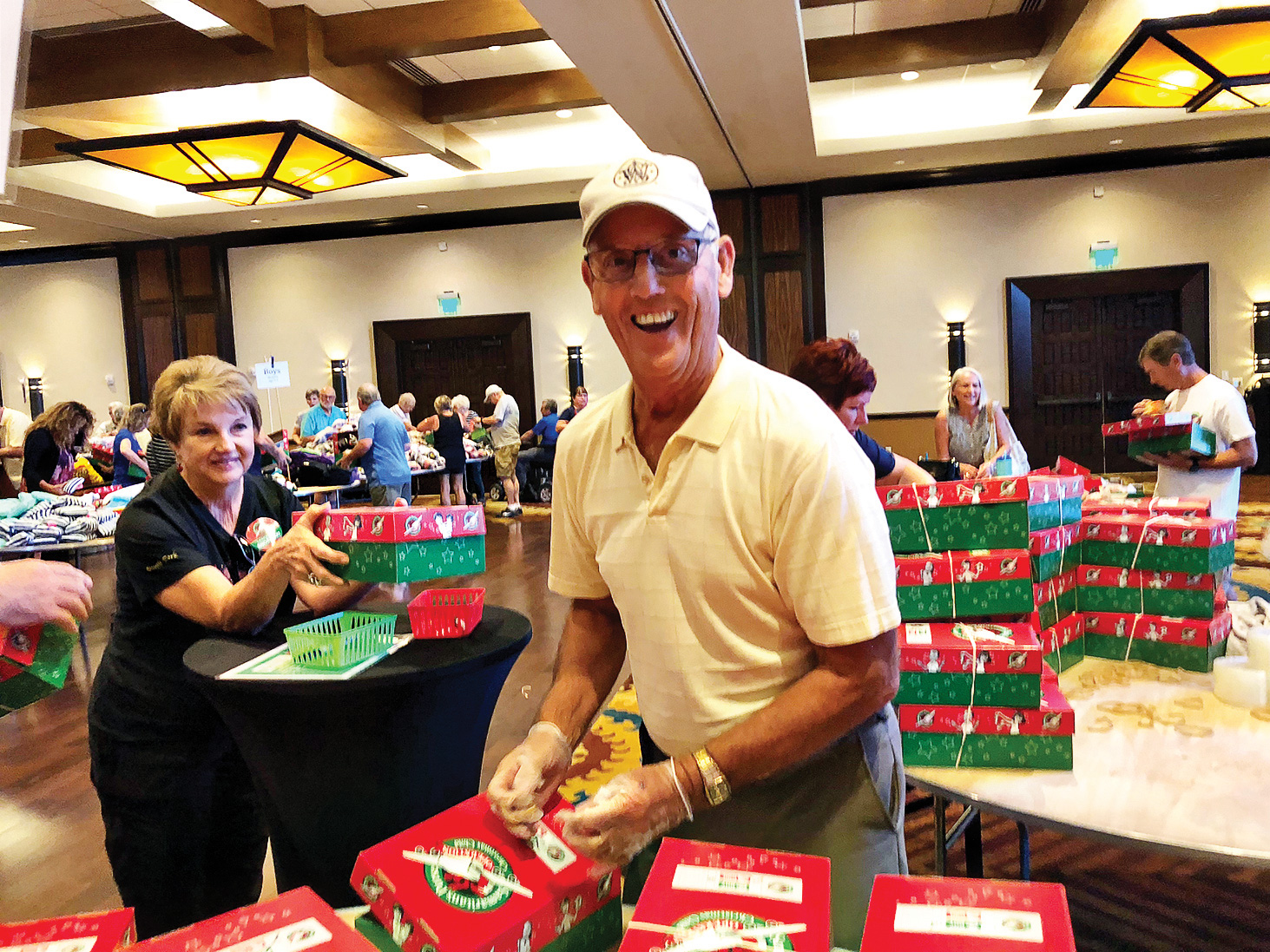 Dave Douglas
Once again, Robson Ranch, along with Rock Springs Church will be participating in Operation Christmas Child's world-wide packing of shoeboxes.
The COVID-19 global pandemic has greatly impacted people all over the world. This year more than ever before, in these uncertain times, children need to know they are loved and not forgotten. Will you join us this year in making a difference in the life of a child?
We are looking forward to a bountiful year of shoebox packing, as we have carefully considered ways to modify our distribution of boxes and community packing party. This year will look a little different, but we are planning on packing well over 2,000 boxes filled with gifts for children in need.
Operation Christmas Child (OCC) provides shoeboxes filled with toys, hygiene items, and school supplies to children all over the world who have never received a gift. OCC is a division of Samaritan's Purse headed by Franklin Graham. Last year, over 11 million boxes were filled and distributed throughout the world. Robson volunteers lovingly packed over 2,800 boxes that found their way into the hands of waiting children in the Philippines and South America.
We are hoping all of the Robson community will join us in this worthy and rewarding opportunity of giving. There will be three major ways to participate this year. Fill your own shoeboxes with gifts of joy. We are hoping that hundreds of individual boxes will be filled this year. Shoeboxes for individual packing can be picked up at the Douglas home (5451 N Pioneer Dr). We encourage you to pack as many boxes as you can this year. Volunteer as a shoebox packer by attending the packing party. Give generously; we welcome cash donations to support the shipping costs. Each box costs $9 to ship.
In an effort to meet state and local recommendations, and for the health and safety of our Robson neighbors, the community packing party will be held in three sessions at the home of Dave and Bev Douglas in their driveway. Each session will accommodate ten shoebox packers only.
The dates and times are as follows:
Session 1: Nov. 14, 9 to 11 a.m.
Session 2: Nov. 14, 1 to 4 p.m.
Session 3: Nov. 15, 1 to 4 p.m.
If you would like to participate in one of the sessions, please call Dave and Bev Douglas at 520-876-4363 to sign up. The 30 slots are offered on a first come, first serve basis.
Thank you to all who have so generously given of their time, talents, and donations to make this ministry to children a wonderful success. Many children will be blessed once again this year knowing that someone cared.
For information, contact Dave and Bev Douglas at 520-876-4363.