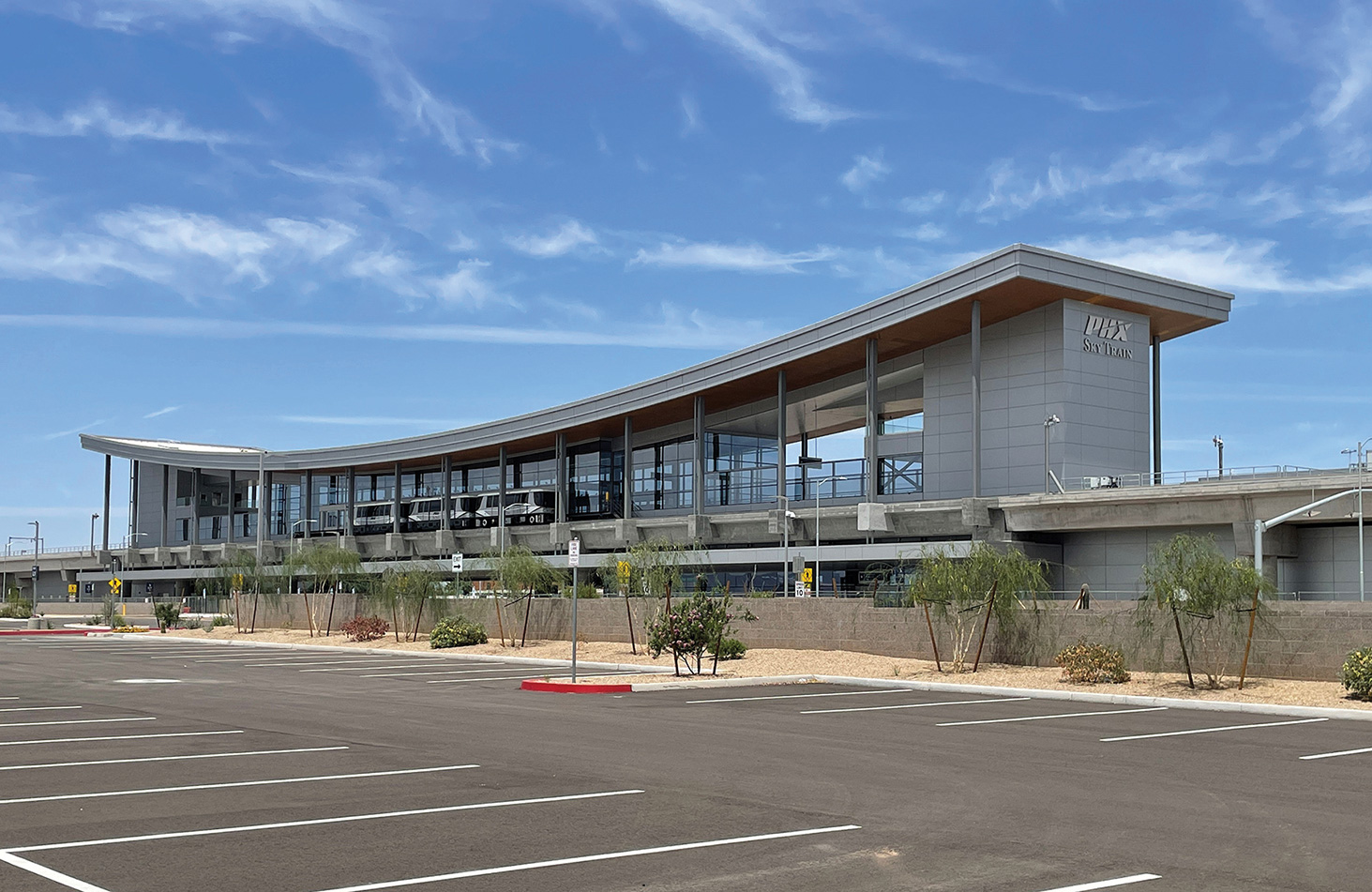 Phoenix Sky Harbor International Airport
Phoenix Sky Harbor passengers now have a faster, quieter, and more comfortable way to get to the Rental Car Center (RCC) thanks to the newly opened extension of the PHX Sky Train®.
Stage 2, which opened to the public on Dec. 20, 2022, is a 2.5-mile extension that connects the terminals to the RCC and adds two new stations—the Rental Car Center Station and 24th Street Station.
The extension eliminates 84 buses that transported terminal passengers to and from the Rental Car Center.
Under Stage 2, it will take under eight minutes to go from Terminal 4 to the Rental Car Center and about 13 minutes to ride the entire five miles from 44th Street Station to the new Rental Car Center station. Trains arrive and depart every three to five minutes 24 hours a day.
In addition to the new Rental Car Center station, a new station was added at 24th Street and Buckeye Road—the 24th Street Station. This provides a convenient option for travelers arriving from the West Valley and downtown Phoenix.
Roadway improvements mean that drivers will find enhanced access to and from nearby freeways.
The station features public and commercial pick-up and drop-off at the curb and will allow travelers to get to the terminals in a matter of minutes.
Other benefits include:
* Freeing up curb space at terminals.
* Transitioning the airport's CNG-fueled buses to an all-electric train.
* Providing a new 24th Street Express Pay Parking lot that will be convenient for customers coming to the airport from the west (which will further reduce traffic on Sky Harbor Boulevard).
* A new parking lot that features more than 20 electric vehicle charging stations.
* Creating a new "front door" to Sky Harbor on the west side of the airport.
The $745 million project was paid for with Rental Car Customer Facility Charges and airline Passenger Facility Charges. No tax dollars were used.
For more information, visit www.skyharbor.com/phxskytrain.