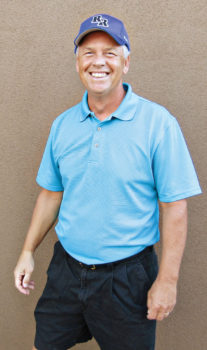 Mary Lapaglia
You will have a choice of worship styles and times as our new Inter-Denominational Church begins on Sunday, January 6. Friendship Center's worship will be at 8:00 and 9:30 a.m. with Pastor Ron Hunt leading the congregation. We can give you the details about worship, but there is nothing like experiencing a church's worship for yourself. We would love to have you come and visit.
That said, here are some details. The first service is at 8:00 a.m. It will be a very meaningful liturgy with a contemplative focus for those who prefer an early morning worship. It will utilize the best of liturgical church worship forms.
The second at 9:30 a.m. will be more of a worship celebration, utilizing a simple form of worship. The setting for both services will be the comfortable and beautiful Laredo Room in the Ranch House. You're encouraged to bring your own favorite coffee or beverage to make your worship experience feel a little more at home.
Both services will bring the best of contemporary music and traditional hymns. We are blessed with outstanding musicians offering their spiritual gifts with keyboards, guitars and voice. We will also have special solo or small group music each Sunday. Our music director is a very gifted musician, Lisa Hunt. She is a soloist, pianist and happens to be the Robson Ranch Singers' Director.
Sermons will be Biblically based with a particular emphasis on Jesus' teachings and miracles. Sermons will be practical, based on real life and inspirational. One fellow pastor complimented Pastor Ron's preaching style as "the best blend of heart and head I've ever heard".
We are truly Inter-Denominational, emphasizing our oneness in God's spirit with people of every faith. Everyone is welcome, whatever their religious or spiritual beliefs, practices and/or faith traditions.
We hope to create a safe and healing experience in worship and truly follow Jesus' teaching to not judge others (Matthew 7:1-5 and Luke 6:37-42). Amy Petersen says, "I have not found a church home yet. I look forward to learning and meeting new friends while we help each other in our spiritual growth. The environment will be relaxing, relatable and easy to be yourself, which is very important to me." Amy's husband, Randy Petersen, who has been with us from the earliest planning stages says, "I am excited to be able to be part of a church where the Gospel will truly give us the "Good News" each and every time we gather together".
The primary text of the vision and mission of Friendship Center is also our first Sunday's text, John 15:9-17. Here Jesus calls his disciples 'friends' at the Last Supper. This is the inspiration for the name and for counting every person as equal in Christ's love."
Learn much more at www.FriendshipCenter.net.
Finally, thank you everyone for your prayers for this new church and keep on "Loving God and Loving Everyone, Everywhere!"