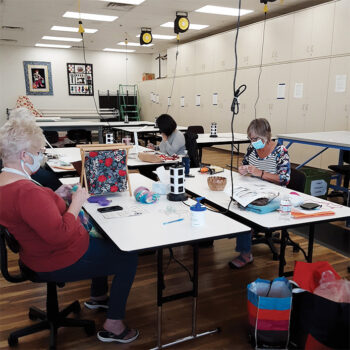 Diana Oleson
Knitting versus crocheting, there is always a question of which should you choose to learn? Both are methods of stitching yarn together, just in different styles.
Knitting
Stitches form a V
Requires a pair of long needles to form loops, moving a set of loops from one needle to another; the stitches are held on the needle.
Crochet
Stitches are more like knots.
Requires a hook to hook the loops together directly on the piece.
The differences make crocheting much easier to work than knitting.
For beginners who seek convenience and versatility it is suggested that you learn to crochet. For those looking to master a wider range of tools, it is suggested that you learn to knit.
For the entire article google Martha Stewart Crochet v. Knitting.
Needle Crafters have invited the Material Girls to join us for slow sewing on Thursdays, this means no sewing machines nor long arm, only hand work.
Needle crafters offer free classes on Thursdays 9 a.m. to noon at the Creative Arts Center. Face masks are required.
For more information contact Diana Oleson at 541-671-0634 or by email at [email protected]