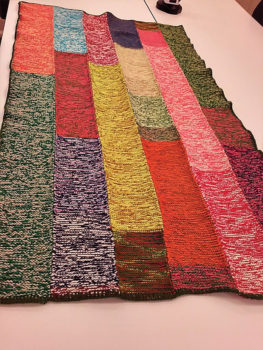 Diana Oleson
Strips of knitted yarn were donated to the Needle Crafters and they stitched them together to create an afghan for one of our local veterans.
The Needle Crafters would love to have tatters and weavers join our group.
Helpful hint for June is "When sewing, knitting or crocheting an item such as a tote bag or toy that requires cardboard for shaping, use plastic canvas instead to ensure stability and washability."
Have a safe Fourth of July!
Needle Crafters gather at Creative Arts Center on Thursdays from 9:00 a.m. to noon. Please join us we have a lot of fun creating new items for our charities and our friends and families as well.