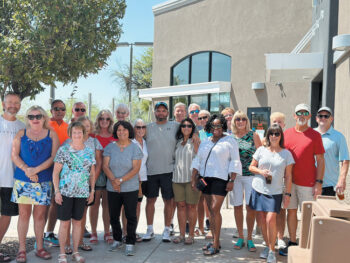 Pat Sand
The Roving Ranchers took a ride to Mount Lemmon on July 20. With temperatures in the Valley at 118 degrees, everyone was looking for a way to cool off. What better way than to meet up with neighbors for lunch at 9,000 feet?
The Ranchers met at McDonalds in Tucson before trekking up the mountain. The drive through the saguaros at the mountain's base was breathtaking. At about 5,000 feet, the temps started to drop as we approached pine and aspen trees. Upon reaching Summerhaven, the temps were a cool 84 degrees.
The Ranchers ate at Sawmill Run Restaurant. As always, they did a great job taking orders and serving food for our group of about 30 people. We had our own section, so we could all sit together. The sandwiches and salads were tasty. For dessert, one Rancher ordered an apple strudel that was the size of a dinner plate! This Rancher was happy to share this yummy treat with some lucky table mates.
After lunch, the group separated to do some exploring. Some walked down the street to the gift shop or to see the new rental cabins and the hotel that is being built. Others drove further up the mountain to take the ski lift to the top. For $12, they were able to ride to the summit of Mount Lemmon. With clear skies, the views were spectacular.
Then we all had to return down the mountain and home to the Ranch, where we were greeted by the desert heat.
Be sure to join the Roving Ranchers on Nextdoor.com or Facebook.com to keep abreast of upcoming trips. The Roving Ranchers is a social group and a great way to meet your neighbors and make new friends while enjoying a variety of outings in the Phoenix/Tucson regional area. We look forward to seeing you at our next outing!