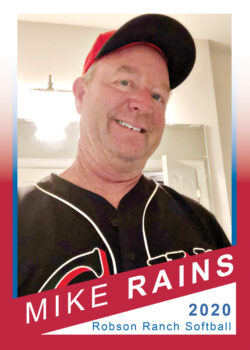 Ken Muhlbeier
It is not difficult to understand how the Anaheim Angels would be the favorite team for young Mike Rains. Growing up in Orange County, Calif., would probably be a sufficient influence but his story has a much more interesting twist. Mike tells us that he lived near Angels stadium but there was one special game that provided him with a unique and rare experience.
As an eleven-year old attending an Anaheim Angels game with his entire immediate family and his grandfather, Mike was unaware that this game was designated as "Kids Day." As the game progressed, several drawings were held for special prizes for the children in attendance. Like any youngster Mike hoped he might win a drawing for a bat or glove. To his surprise, Mike's ticket number, 451308, was drawn for the grand prize, a Shetland pony with a saddle and bridle. Having his prize presented in front of the crowd by the owner of the Angels, Gene Autry, could only be topped by a trip around the field while being cheered on by the crowd during the seventh inning stretch. Mike concludes his story with an update on the pony.
"Living in southern California we really had no place to keep a horse, so my parents boarded it somewhere for a while and I went a few times to ride and then we sold it."
Not quite the riding off into the sunset ending we are used to from Zane Gray western novels, or Gene Autry movies.
Mike's earliest baseball memories involve pitching and catching in little league games in Orange County. Mike had the unusual situation of being a left-handed catcher so the league purchased a left-handed catcher's mitt for him.
"One game I would pitch and my team-mate would catch, the next game we would switch positions," Mike said.
Mike credits his father as an important influence in his baseball life.
"My dad used to always work with me on my pitching for hours," Mike recalled. "I remember how he acted like it hurt his hand when he caught my pitches even though I'm sure he was just trying to make me feel good."
Softball, both slowpitch and fastpitch, started after high school.
"We would play tournaments almost every weekend for many years. I remember when our first child, our son, was being born at the hospital with my wife and having to leave to go play in a tournament. He ended up growing up at the softball field coming to games and practices while my wife, JoLynn, would keep the book for our games," Mike said.
Softball at Robson Ranch had to be delayed for Mike because he was not yet 55-years-old when he moved here.
"I hadn't played in 20 years but I turned out for practice and played in a few tournaments. Everybody was great but I couldn't play in the league games for two years because of my age," Mike said.
After moving to Arizona following his retirement, Mike became "seriously addicted" to pickleball. "I played competitively for about six years traveling in my motorhome playing in tournaments throughout six western states. Probably my biggest accomplishment in pickleball was winning the championship at our level with my partner at the Huntsman World Senior Games in St. George, Utah," Mike said.
Like so many others, senior softball for Mike revolves around the friends and fellowship of team-mates.
"Mostly I enjoy being around the guys. Everyone is so great and there are not a lot of issues with politics and personalities. I feel like as I am aging the competition is becoming less important than the camaraderie of just being with the guys," he said.
Mike also credits his wife JoLynn as his biggest supporter.
We appreciate Mike as a loyal member of our club. He has played an important role on both league and tournament teams. He has also helped with maintaining our infield, working on field prep for games and tournaments and is always a positive influence. We are grateful for Mike and wish him many more years of softball.