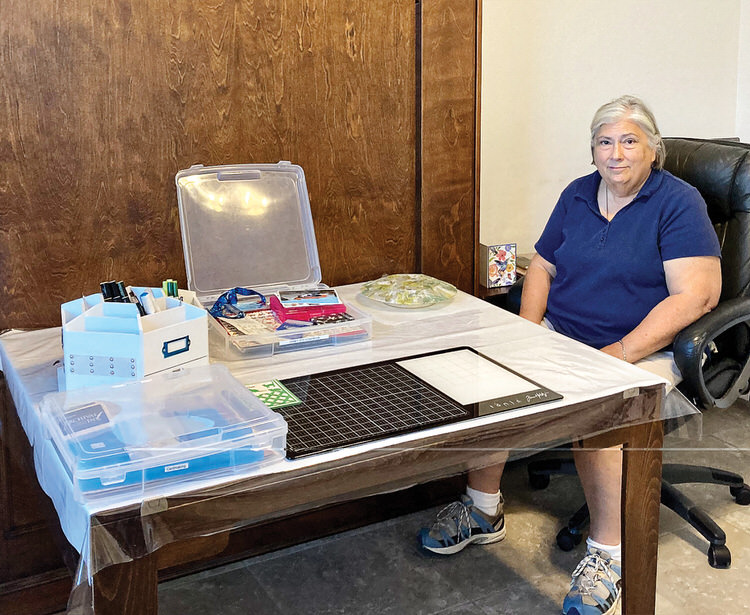 Jaine Toth
Prior to her move to Robson Ranch in early August 2019, Michele Skinner had some experience in scrapbooking but had never even considered making her own greeting cards. She and her sister, a professional photographer, created a computer-generated scrapbook of their family history from old family photos that her sister restored, and documents they found through their genealogy research.
Michele, a working single mother who had saved almost all the memorabilia of her daughter's life from birth through high school, kept trying to put it all into a scrapbook that she could give her daughter as a surprise gift. The problem was that her daughter lived so close she would often just pop in, so it was difficult to find a safe time to work on it. Finally, after getting her new home settled here, she attended the annual Paper Crafting Club meeting in October 2019 and joined the group.
Almost immediately after joining the club, she was elected to the club board and then elected as it's treasurer. "I hardly knew how to make a card, but I knew how to handle money," she says. She also took on the job of drafting our club bylaws. "I then reviewed them with Georgia Brosnihan," Michele says. "Because she had been a former member of another paper crafting group, she was very helpful with applicable changes before the board reviewed and approved them."
Michele often finds herself the only one working on a scrapbooking project. Other members are also scrapbookers but most do that work at home. Though intrigued by the card projects, Michele was determined to finish her daughter's project before moving on to learning how to make cards. It took her from the beginning of 2020 through October of that year to complete the project, working mainly at home due to the pandemic. She ended up with 11 12-by-12-inch albums which she packed into two large boxes and took to California for Christmas. Michele made sure that they were the last items to be opened on Christmas morning. Her daughter was moved to tears—of joy of course!
Michele then began her exploration of cardmaking with a class offered by Pam Costner. She wasn't sure if she'd like making cards, but quickly found it enjoyable. Though she feels confident enough to develop her own designs, she still takes many of the club-sponsored classes and is happy to now have the time to participate in making cards for the club's charity projects. She has another scrapbook she wants to create with photos from a recent family trip, and would like to create another genealogy album, but plans to find a way to balance the scrapbooks and cardmaking.