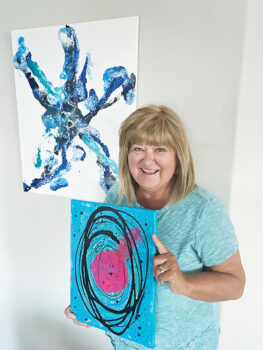 Jeana Capel-Jones
Art is in the eye of the beholder.
"A streak of creativity waiting to be unleashed," that's the primary reason I joined the Fine Arts Guild soon after arriving at Robson Ranch almost three years ago. Two other reasons why I joined was to learn how to be a better artist and for the camaraderie. We have so much fun in the art studio where friendships are built.
The Fine Arts Guild has provided me with so many ways to unleash my creative spirit. I have had opportunities to learn about the various art mediums from watercolors, to acrylics, color pencils, to pen and ink. These mediums can be as innovative and diverse as the artists who create with them. Another interesting technique I learned is multi-color pouring taught by Janet Buckingham, a new friend. Another new friend, Nils Johnson, mentioned I should watch YouTube videos from Robert Burridge when I told him I was going to focus on abstract art. This piece of information has been a blessing—it is like going to school for abstract painting. It has reinforced many of the techniques I learned at the classes provided by the Guild and introduced me to the process of being creative.
I just love abstract art—that is where my creative energy finds its inspiration. Abstract art gives me permission to paint the way I want. It requires you to loosen up your preconceived ideas and lets your imagination run wild, "abstract—described as art which has no recognizable relationship with visible reality. It uses elements such as shape, color, and lines to create its own reality."
As a beginner, I have had to start with the basics from understanding the use of color—primary, complimentary, and spice colors and how colors interact with one another. I also learned how the shading effects of light and shadow may change the way you paint. These techniques can change your artwork dramatically. Secrets from the pros and my peers have helped me tremendously.
The Fine Arts Guild has provided me with many tools and resources such as knowing which brush produces what type of stroke from feather-like to strong and bold. The techniques vary with each stroke because there are so many different kinds of brushes. Techniques of shading, composition, rules of thirds, layering, masking, spattering, blending, and even finger painting helps create effects that can make many pieces of art sing with inspiration. Art allows everyone the freedom to express themselves in any way they want.
Art has helped me be creative, inspired me to see life through a different lens, spurred optimism when I was facing life challenges, and has added another dimension to the word "fun." Art and the Fine Art Guild's classes have made me look at life from a quirkier perspective. Simply put, it's fun and stretches my mind in new dimensions. It has given me permission to paint the way I want to.
Fun, friends, and the ability to be as creative as I can be while learning about the world of art is why I enjoy going to Studio II of the Creative Arts Center where the Fine Arts Guild is located.