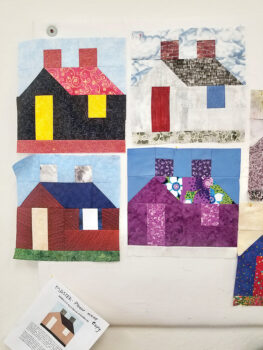 Patty LaCroix
The various houses pictured will be combined into a quilt of many colors, which is the current project of the Material Girls. This particular block is just one of many traditional designs that fill thousands of books and patterns. Some of the most popular design names include Hourglass, Jacob's Ladder, Missouri Star, and Water Wheel. Some quilters have even come up with their own names and interpretations.
For quilters who have ventured further into quilt designs, colors, and fabric choices, you can see how the ideas make for some outstanding quilts. If you have been a recipient of such an outstanding quilt, consider yourself fortunate.
Some Material Girls have even recycled men's ties, t-shirts, hankies, dad's favorite shirts, and even mom's dresses to make a memory quilt. The results are beautiful and will become a keepsake for years to come. It's not just about buying fabric, cutting it up into pieces, and sewing it back together. There is a story with each quilt. Just ask any quilter and you'll hear all about it.
But Material Girls are not just about quilts either. It's all about material! Results can be pot holders, purses and totes, microwave bowls, cozy covers, trivets, pillows, and table runners just to name a few. And don't forget the garment sewing group too. The talent here at the Ranch is endless. If you have an opportunity to attend a Craft Fair, you'll see those talents displayed and offered for purchase.
Visit the Creative Arts Center when it's open, and you'll observe some of those projects being made and can ask questions of those who are there. Perhaps you'd like to join the creative fun. Check the back page for the days and times of the center.
If you would like to know more about the Material Girls or the Embroidery Group, contact Patty LaCroix at [email protected] or 951-440-5482 or Diane Bohmert at [email protected] or 651-434-1902.