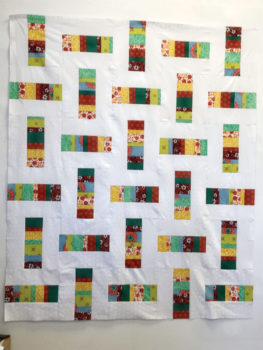 Jean Handlen
During what we might call the quiet months of summer, the Material Girls has a core group that is working tirelessly on comfort quilts. On June 20 Joy Swanson, Marge Doughty, Melody Peebles, Diane Bohmert, Mary Syer and Teri Bay got together and cut out five quilt kits, completed one and placed three of the kits in the cabinet so other members can grab them and put together a top without having to do all the cutting. These gals deserve a vote of thanks for all that they do to make sure that there are lots of inventory in tops for our charity/comfort quilts.
This year we are supporting the Family Advocacy Center for Children and providing the Eloy Police Department with two quilts for each police car for when they must remove a child from a home. The Material Girls has also supported the Eloy Senior Center for four years by annually providing a quilt or pillowcase to all of the residents. We also make comfort quilts for our own residents who have a serious illness or who have lost a spouse. The Material Girls has not forgotten our furry friends either and donate all our scraps toward making beds for the shelter at the Pinal County fairgrounds.
Please contact either Marge Doughty at 360-739-9990, [email protected] or Doug Kant at 989-860-0692, [email protected] if you know a Robson resident who might need one.
The Material Girls welcomes all residents who have a love for sewing and/or quilting to join our club. Dues are $20 per year and you can visit two times before dues are collected. Monies from our dues, profits from our raffle quilt ticket sales and the craft fairs support the purchase of fabrics and supplies we need to fulfill our ongoing commitments to our charities.
Our Quilters: Cut with hope, Stitch with grace, Quilt with dreams, Bind with laughter, Share with love.
If you would like more information about the club please contact one of the following members: Karn King 520-233-0227 [email protected],
Donna Payne 815-488-6861 [email protected], Robin Tisinger 520-423-2623 1 [email protected], or Patty Folly 503-804-6260 [email protected]