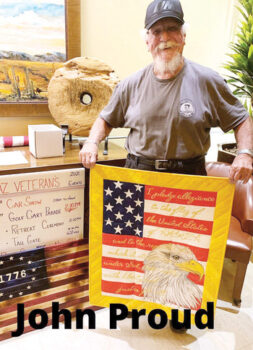 Patty LaCroix
"I pledge allegiance to the flag …"
Arriving at school and beginning our day in class, how many times did we repeat those words? Remembering myself I believe those words were taught to me even beginning in kindergarten. Being so young at the time, I do remember a teacher, however, explaining what each word meant. And the same experience applies with the Star Spangled Banner.
So true today, those words mean freedom and respect for the flag and our troops. The Embroidery Group, which is part of the Material Girls, stepped up to create a beautiful quilt (wall hanging) that was raffled at the Support our Troops (SOT) ceremony last month. We can thank the organizer, Diane Bohmert, along with volunteers Marge Doughty, Susie Klopp, Mary Hogan, Ethel Lewis, Sue Price, Marie Stuersel, and myself for the construction process. We are very proud of the final result. Thank you, ladies, for all your help.
The winner of this quilt was John Proud. Yes, that is his real name! We hope it gives him much happiness.
Many of our snowbirds have been coming back to The Ranch to rejoin the Material Girls and begin new projects. Some will be ready to use the long arm machine, scan and cut, and Accu-Cutter, just to name a few of the available pieces of equipment at the center. Members must be trained on these machines by a Robson Ranch certified trainer. Fabric and other supplies are available to all members who wish to make a comfort quilt for charity, however, some of the equipment is there for personal use as well.
Check the calendar at the Creative Arts Center (CAC), which is located just inside the entry door to the room. The calendar is posted every month and outlines all the activities for the upcoming month with the names of who to contact. If you're interested in becoming a member of this very active group, give Barbara Renthal a call at 602-295-4657 for all the details and membership fee.
Soon, a new raffle quilt will be on display for 2022. This is another beautiful display of the craftsmanship here at the ranch and is presented to the community with the offer to purchase tickets for the upcoming year. A picture of this quilt will be available in an upcoming article along with all the details.
Just for the laugh—Husband says to wife, "When I said, 'I don't think you have what it takes to be a quilter,' I only meant that you don't have enough closet space!" (From By the Yard Comics in the Country Register by Jennifer Lopez, Oct–Nov, 2021.)