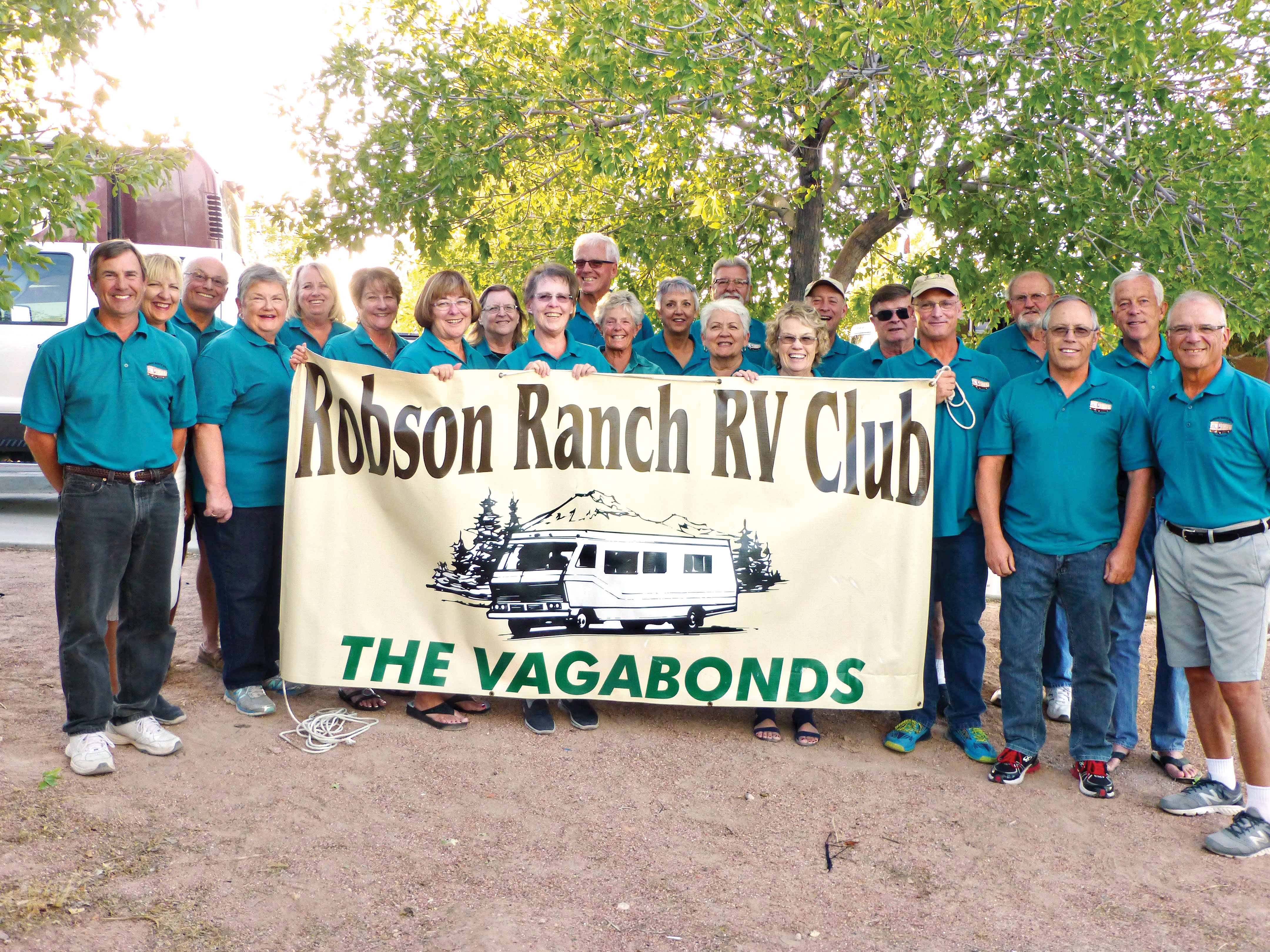 Rebecca McKinney
Once again the Vagabonds RV Club had a great, fun, informative trip with new friendships and food!
We arrived October 8 at our campsite in the Wahweap RV Park, Page, AZ one-fourth mile from the shore of Lake Powell and broke camp October 14. The Wagon Masters, Skip and Mary Syer and Jim and Teresa Baxter, organized a fun filled itinerary full of friendship, wonder and beauty. The arrival evening included Margaritas and heavy hors d'oeuvres provided by each rig.
The Wagon Masters did all the prep work to find us the most interesting and enjoyable things to do. Prior to the trip members chose what activities they would like to attend, and then reservations were made to accommodate our large group. We had 11 Rigs with 22 people participating.
Light hiking included .isit to the Antelope Slot Upper Canyon Tour, which is a must see. We rode "Jeeps" to the entrance and then walked through the canyons with great Navajo guides who showed us how to capture the splendor with our cameras/cell phones. On a separate day we took a tour of Canyon X, which is located deep within Antelope Canyon. Amazing!
Boating include.arious options. There were several tours of Lake Powell to choose from: the Colorado River, Antelope Canyon, Glen Canyon Dam and the Rainbow Bridge all highlighting the Navajo Nation. Two couples chose to brave the Colorado River waters and go on .ery mild rafting trip highlighting Horseshoe Bend. Some rented a boat to tour at their leisure. Many choices.
We were educated with a private group tour of the Glen Canyon Dam, and one evening we went to see Native American dance performances at Into the Grand dinner theater. Beautiful!
As always we had to eat. What a great group coming together for a camp barbeque, a potluck with homemade pasta dishes from our hosts and the traditional men's breakfast with pancakes.
Of course we had to dine out some, which included Fiesta Mexicana and Big John's BBQ to name a few.
Golf is always on the schedule during our trips. Lake Powell National Golf course has a picturesque setting with lush fairways. Fantastic.
This outing included: Skip and Mary Syer, Jim and Teresa Baxter, Jeff and Linda Ottle, Richard and Debbie Harris, Ron Brothers and Diane DeFore, Tom and Rebecca McKinney, John and Loretta Sutton, Lee and Renee Kleinjan, John and Alice Corbett, Dave and Caroline Anderson and Jim and Clare Law.
There are generally three to four rallies a year with the number of rig.arying from 10 to 16 per trip. Our club is growing rapidly so the trips are getting bigger! In 2018 we are planning rallies to Camp Pendleton, the Grand Canyon and Lake Patagonia. We have lots of fun and get educated at the same time.
We meet the first Friday of each month, October to May, at the Sports Center. If you have an RV of any kind come to a meeting and check us out! Call first to confirm as sometimes the dates and locations may change. For more information please contact Ron Brothers, club president, at 206-465-8951 or Jeff Ottle, club secretary, at 208-869-1585.