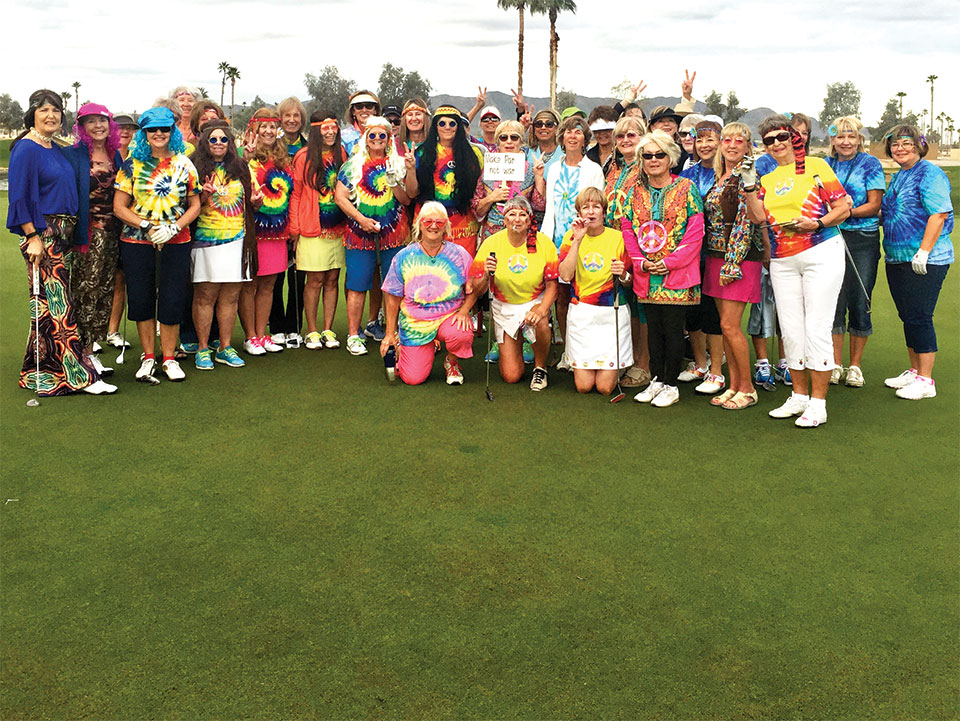 RRLGA's much anticipated annual Past Presidents' Tournament was held Tuesday, February 14. It was a groovy day filled with sunshine and no wind! Past presidents Dee Lee, Candy Burtis, Joanne Heiman and MaryLou Walton created the theme "Hippie Chicks with Sticks" including informative and nostalgic boards at each tee box to read and reminisce.
Members were dressed in hippie style clothes and accessories! We had 40 women comprising 10 teams. After each team played a hole they proceeded to the next tee box and read their instructions on how to choose scores from the previous hole. The instructions included using scores of any team member who was wearing a peace sign, had tie dyed a shirt/jeans, how many Woodstock type concerts they had attended or who had owned a VW beetle or van.
Following the round we all enjoyed a luncheon of Yellow Submarine sandwiches, Here Comes the Sun chips, and Chocolate Strawberries Forever for dessert and a contest of matching songs with their artists. The Hippie Chicks who scored were 1st place: Cathy Edge, Chris Clark, Adele Wolyn, Debbie Hatcher; 2nd place: Robin Barber, Dee Lee, Betty Kumbera and Cindy Jensen; 3rd place: Lorna Watts, Karen Connell, Shirley Eliuk and Margaret Erickson.
A special thanks to Heather Hardesty and her staff and to all the members who participated in this fun event.
Verdauungsstörungen können in Amerika mit fast identischen Hausmitteln behandelt werden ersteapotheke24.com: "Aktivkohletabletten, ein aus der Kindheit bekanntes Rezept zur Behandlung von Magenverstimmungen. Die Amerikaner selbst bevorzugen jedoch andere Sorptionsmittel.