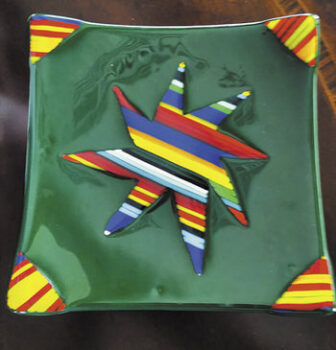 Doris Betuel
Meet our June Fused Glass Club member of the month, Carla Naymik. Carla joined the Robson Ranch Fused Glass Club a few years ago, and as she says, this is her "happy place." Her journey to Robson Ranch started on the beaches of Santa Monica, Calif., where she grew up to boogie boards, sand in her shoes, and where moms would yell at their kids to "be home by dinner" as they ran out to the beach for the day. Those were the days!
Fast forward a few years, and after graduating in the '80s, Carla landed a dream job in Maui (yeah, life is unfair). Packing up her bike and shipping off her VW bug, she moved to Maui and enjoyed some amazing adventures in paradise. After returning to California a few years later, she met her boyfriend's brother's friend, Mark. Mark turned out to be "the one" and they were married just a few years later. Mark joined the Navy and after the arrival of their son, Marcus, the Navy moved the family to Whidbey Island, Wash.
Carla spent the last 20 years of her work life as a home care/hospice nurse at Whidbey General Hospital. Mark retired from the Navy and began his next career in the private aerospace sector with Boeing. When COVID-19 hit, Mark was able to work from home and this allowed them both to relocate to sunny Arizona and the Robson community. This also worked out great so they could be closer to their son who had attended school at ASU (Go Sun Devils!) and now worked at his dream job at TGen labs.
Carla and Mark occasionally miss the cool ocean breezes of the California coast, but could not be happier living close to their son and being part of our wonderful active adult community at Robson Ranch. Carla enjoys Lois' fun and challenging pool aerobics classes and credits the Fused Glass Club's members who freely share their artistic gifts to help unleash her inner artist. Please check out some of Carla's amazing projects. Thank you, Carla, for your positive attitude and friendly, welcoming energy!
If you would like to join Carla and our other members in creating some unique and beautiful art, you can get started by taking a beginner class. Beginner classes are offered about once a month and all year round. Please email Doris Betuel at [email protected] for more information or if you would like to sign up for the next available class.