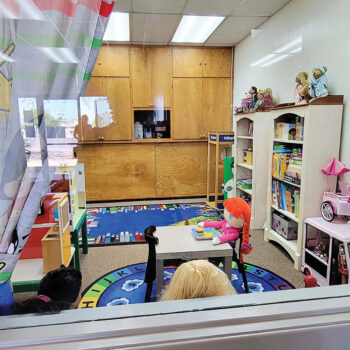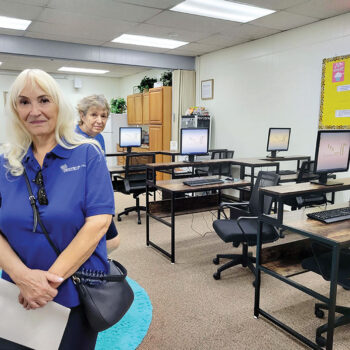 Deborah Dorman
On May 9, members of the Democratic Club of Robson Ranch and a few guests from other clubs were treated to an open house at a brand-new facility for the Eloy Elementary School District's Parent Support Center, run by Angela Acuña and commonly called "Angela's Closet." Far more than a storage facility, it is a bright, cheerful place full of resources for students and their parents, from academic tools and technology to food, clothing, and household supplies, and a connection to any resources a family might need. In addition, support is provided for homeless students and their parents currently housed in a hotel.
Ruby James, superintendent of the Eloy Elementary School District (pre-K through fifth grade), took club members on a tour of the district's schools, sports facilities, and the Civil Air Patrol (CAP) program, run by volunteer Captain Kevin Rattey. The CAP program teaches students (ages 12 to 18) to fly planes and handle air traffic control, and includes emergency services and aerospace education. The district also provides a free pre-K program and has a free dinner program called the Diablo Drive-Through (not currently offered during the summer, however).
After the tour, the Democratic Club provided refreshments and presented Angela Acuña with a check for $700 raised at the bake sale in March at Robson Ranch, and the Democrats of Casa Grande added another $100 as well. The Democratic Club of Robson Ranch, as part of their community outreach initiative, have pledged ongoing support for Angela's Closet. They have previously collected food items during club events to donate and will continue to do so. This community partnership (which does not involve any "politicking") is just one example of how the active adults at Robson Ranch can contribute to Eloy and support public education in the area.
For more information about Angela's Closet, or to arrange donations, call 520-466-2104 or email [email protected]. For more information on the Civil Air Patrol program, contact Kevin Rattey at 520-510-9771 or [email protected].