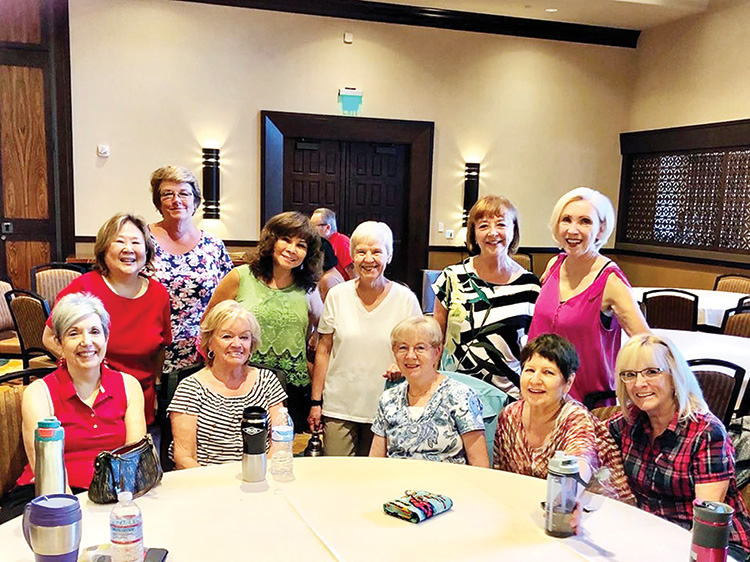 Paul Gayer
Coaster step; jazz box; lindy; sailor step; sway, sway; kick, ball and step are just some of the dance steps that CJ teaches in the line dancing classes offered in the afternoon on Tuesdays and Fridays at the Sports Club. The beauty of line dancing is you don't need a partner to participate!
Classes are catered to three different levels of dancers. The intermediate dancers have been dancing together for a little over three years now, and the dances they learn are a little more complicated than the others. The improvers have been dancing for about two years now, and although they have learned the steps, the dances include more walls, turns and step patterns. The beginners are just that: beginners. The dancers in that class started in May of this year. And boy, have they come a long way in that short amount of time!
Line dancing is not just country dancing. By using the sites on the Internet and attending classes in Arizona City, CJ teaches a variety of dances. Lipstick tango, four o'clock waltz and contemporary/modern dances are included with the traditional country line dances. She has even choreographed a few of her own!
Although dancing is a great way for your body to stay in shape, research has confirmed that it's a great way for your mind to stay in shape as well. Dancing is another way to improve brain health as we age and may be better in sensorimotor demands than exercise for improving balance, recognizing the beat and move in tandem, in "feeling" the rhythm of the music and remembering dance steps – all while having fun doing it!
Why not give it a try? Watch for news on the next beginner's line dancing class. But remember, a new wall equals a new dance!