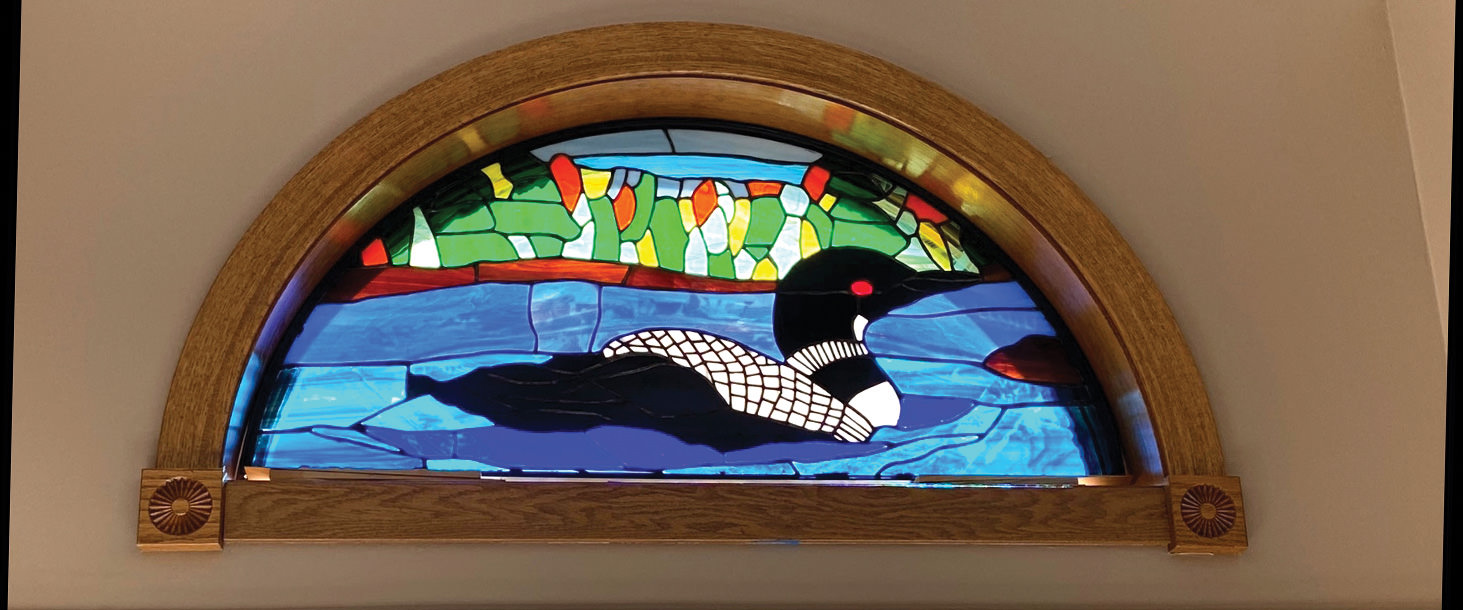 Diane Williams
Members of the Stained Glass Club are keeping busy creating beautiful and fun stained glass works of art. Jackie Christensen made this gorgeous art piece called Lazy Days on the Lake for her dining room window in her and her husband's Minnesota home on the lake. It measures 3'w x 2'h and was her second piece to build after the beginner class. Truly an accomplishment for a stained-glass beginner. De Southwick hit it out of the park with this lovely Southwestern patio lantern. This is De's second piece after her beginner class. Diane Williams and Becky Sheffler teamed up and made cute festive Christmas trees for the display case window at the Creative Arts Center in Studio V. It's always fun working together to create pieces and enjoy the camaraderie with new and more experienced members in the studio.
The Stained Glass Club has added 10 new members thanks to Beth Sulek-LaHousse and Cynthia Melito working together to teach these new members the basics of stained glass while wearing masks and social distancing. For the more experienced members of the club, it's fun to hear a beginner when they cut and break their first piece of glass and can't help but shout out, "I did it, I cut and broke my first piece of stained glass, how exciting!"
Cynthia Melito taught two Scrappy Tree classes for interested members to use up some of the scrap glass that builds up over time. Kits were put together with various sizes and colors of glass and class participants were each challenged to use the glass in the kits to make these fun scrappy trees. A lot of laughs could be heard (even through the masks) as members were making these cute little holiday trees. Members on all skill levels attended the classes and each tree was unique and fun. A couple of members added further details with decorative solder and cute little candles.
The Stained Glass Club promotes interest in other glass oriented crafts such as mosaics, decorative soldering, glass etching, working with preformed metal pieces to create stained glass yard art or window pieces, foiling, and leading. Nanci Bounds and Jean DeChristopher are using their talents and making Mosaic Stained Glass side tables. These tables will be featured in next month's Robson Ranch Views.