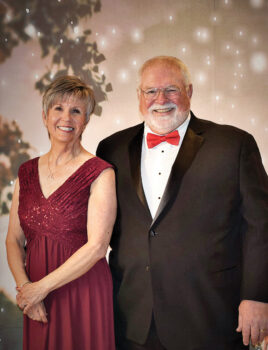 Betty Reagan
On Saturday, Jan. 11, the Cotillion Dance Club will present the annual Black and White Ball. This dinner dance will be held at the Cottonwood San Tan Ballroom in Sun Lakes. The dance is a formal affair (tuxedos for the gentlemen and gowns for the ladies). The reception begins at 5:45 p.m. with live instrumental music provided by Angelo Valente and will feature champagne, imported and domestic cheese with crackers, and crab rangoon hors d'oeuvres.
The dinner begins at 6:45 p.m. with a salad of mixed spring greens served with blue cheese or raspberry vinaigrette dressing on the side and warm rolls and butter. The entrée selections are prime rib (prime rib of beef served with au jus and creamy horseradish) or halibut Oscar (halibut filet topped with crab meat, fresh asparagus and béarnaise sauce), both served with potato au gratin and asparagus, followed by apple pie for dessert. The dietary meal is pan-seared chicken breast with a lemon capers sauce, roasted red potatoes and asparagus, with flourless chocolate cake for dessert.
We will be featuring live music by the Swingtips in a special configuration that includes a female vocalist. The band begins their first of three dance sets at 7 p.m.
The group lesson for this dance will be on Friday, Jan. 10, at 10 a.m. until noon in the Mirror Room of the Sun Lakes Clubhouse (Sun Lakes Phase I). The featured dance step will be the foxtrot. Antonio (Tony) Lomeli from Fred Astaire is scheduled to teach. You do not need a reservation to attend the group lesson. You can pay the $5 fee (per person) for your group lesson when you arrive at the Mirror Room.
Residents of any Arizona Robson Community are welcome to attend the group lessons and dinner dances. You must purchase a ticket ahead of time to attend dinner dances. Visit our website for pricing and payment options.
As of this article's printing, there are still a few seats available for this dance, so reserve your spot as soon as possible by contacting the Cotillion Dance Club at 602-529-6829 (voice or text) or [email protected]
Website: www.cotilliondanceclubaz.com
Mail to: PO BOX 13153, Chandler, AZ 85248.