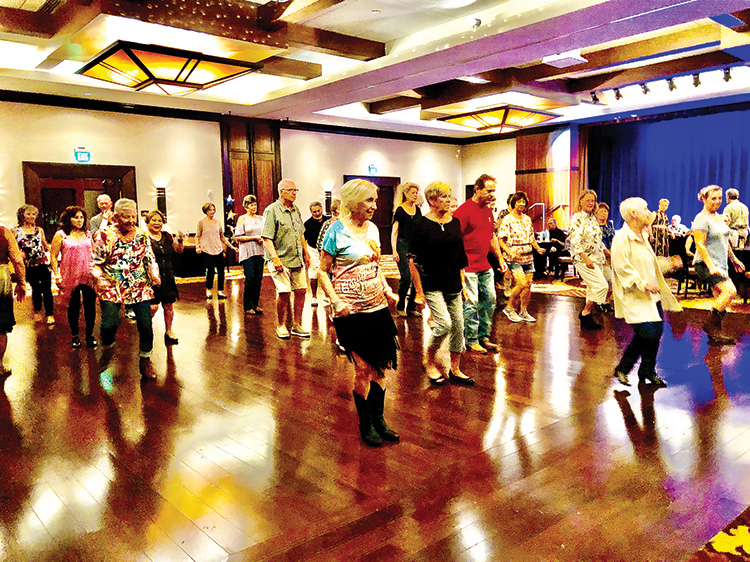 Paul Gayer
The paradigm that line dancing is the Electric Slide or the Tush Push is changing at Robson Ranch. C.J. Azaria has built a line dancing program from one class with around 12 attendees three years ago to three classes with over 38 dancers today! And there are many more requests for a beginner's class to start again.
You may not know this, but there are many health benefits of line dancing.  Not only is it wonderful exercise for an aging population, it also helps the brain.  Line dancing can decrease the risk of Alzheimer's and Dementia, and now new studies are even revealing that dance helps with Parkinson's.  Easy on the joints, but yet you are moving! And more importantly, you are having fun! Surrounded by a new circle of friends, line dancing is highly beneficial raising endorphin levels, which combats stress and depression.
As of this writing, classes are offered on Tuesdays and Fridays at the Sports Club. The intermediate class is 1 – 2 p.m.; improvers, 2 – 3 p.m.; and beginners, 3 – 4 p.m.  Look for an email in January to see when the next beginner's class begins!
On Sunday, November 3, the Dance Club sponsored a Harvest Moon dance in the Hermosa Ballroom.  The line dancers lit up the dance floor intermittently and together with the Dance Club ballroom dancers.  It was opened to all Robson Ranch residents; but if you missed it, a few more dances are being planned for the winter. So put on your dancing shoes and join us! Watch your emails for exact dates!