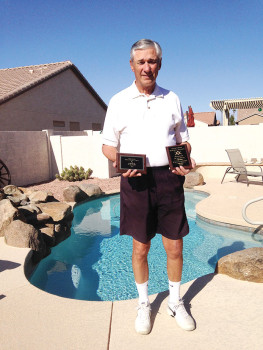 Congratulations go to Paul Lewinski, coach of the Robson Rangers softball team, who was named Coach of the Year at the annual end-of-the-season Palm Creek Softball league banquet on February 28, 2015. This is the second time in three years that Paul was given this prestigious honor.
League President Dan Jmaeff presented the Coach of the Year plaque to Paul at the banquet. Not only did Paul receive a plaque to display at home, but Palm Creek also displays a plaque that lists all past winners' names at the Palm Creek Community Center. What a distinguished honor for Paul who has coached Robson teams for many years now!
Paul coached the Robson Rangers to a perfect 18-0 season this year! Way to go, Rangers! And Coach Paul! Congratulations to a well-deserved honor!