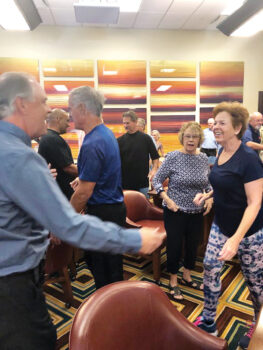 Mary Beth Smith
Friendship Center—the Robson-based, inter-denominational church—worshiped on the very first Sunday of 2019 in the Ranch House Laredo Room. The church's called spiritual leader, Pastor Ron Hunt, preached on Jesus' words, calling his disciples "friends".
"Loving God, Loving Everyone, Everywhere" is the five-word summary of Jesus' life and teachings that we strive to embody. It is also the church's vision statement.
Sunday worship is 8 a.m. and 9:30 a.m. in the Ranch House, Laredo Room.
Every Sunday, we delve into Jesus' greatest teaching in the gospels. Also, Holy Communion is offered each Sunday.
Musical Director Lisa Hunt shares her keyboard and vocal talents, while Ken Muhlbeier plays guitar. Amy Petersen also plays keyboard. With five different soloists, choral ensembles, and small singing groups, the congregation is found to be very blessed with musical talent. The music is carefully planned to add to the scriptural message of the service.
Numerous small groups were also begun for biblical study and spiritual growth. All are open to anyone at Robson to attend.
We dedicate at least 10% of all offerings to local and global-effective charities, and members of our church were instrumental in starting a chapter of 100+ People who Care. The Church is a "Gold Level Sponsor," committing $1,000 to local charitable work. On April 8, Seeds of Hope was presented with checks totaling more than $2,100, and in November, the Eloy Food Bank received approximately $2,100. Pets in Need Action League received approximately $500, as we partnered with numerous other people to raise the funds.
The key to the success of this church's beginning was Randy Petersen, Loretta Sutton, Mary Beth Smith, Lisa Hunt, Amy Peterson, and Bob Bennett, among others. Those named worked in 2018 to get the church started this year.
Some important events in 2019 were:
* March 11: Bless the Pets first service held outside.
* March 31: We celebrated our first 90 days with 22 members of the Robson Ranch Singers performing. Later that day, we held our first Happier Hour where we had the opportunity to get to know each other better.
* Palm Sunday: The church held a unique service incorporating Pastor Bob Kleinke's one act play Why did Jesus die? A Grand jury Investigation into the Trial and Execution of Jesus. The actors were members of Friendship Center.
* On June 5, we started our summer worship schedule called Vacation Bible Camp. Our camp counselors, various members of the church, developed creative Bible sessions that included music, games, and exploration of challenging subjects like "Where is Heaven?"
* At Thanksgiving and Christmas, Friendship Center held gatherings both spiritual and festive. A special Christmas Eve candlelight service was especially inspiring.
The past 12 months have been enriching, thought provoking, and joyful as we keep "Loving God, Loving Everyone, Everywhere."
A most blessed new year to you all from Friendship Center!