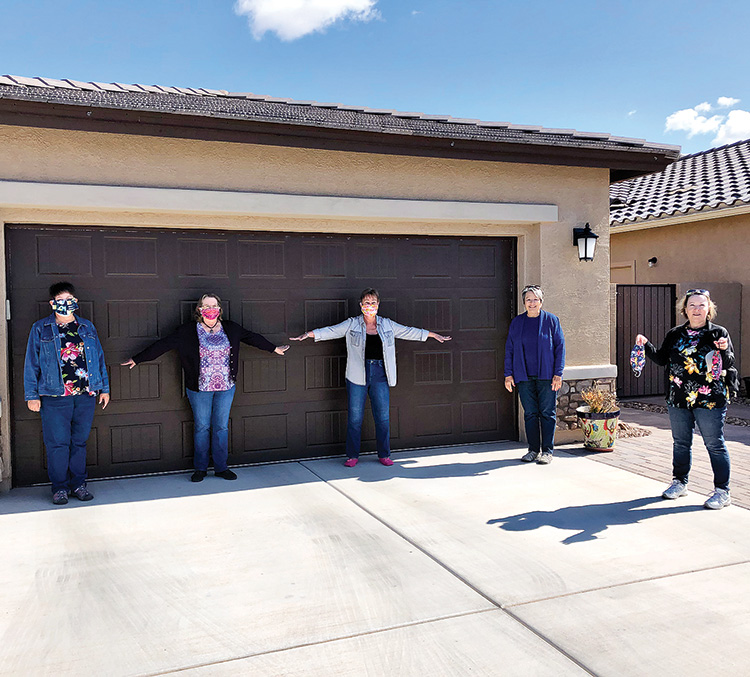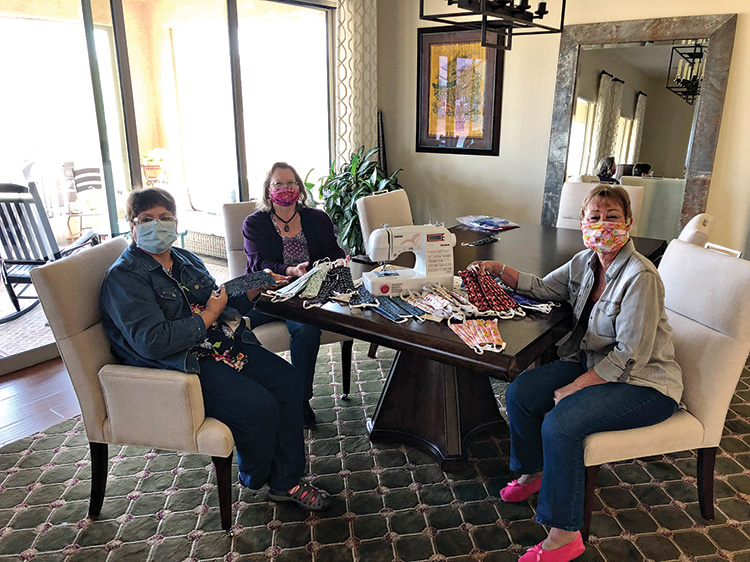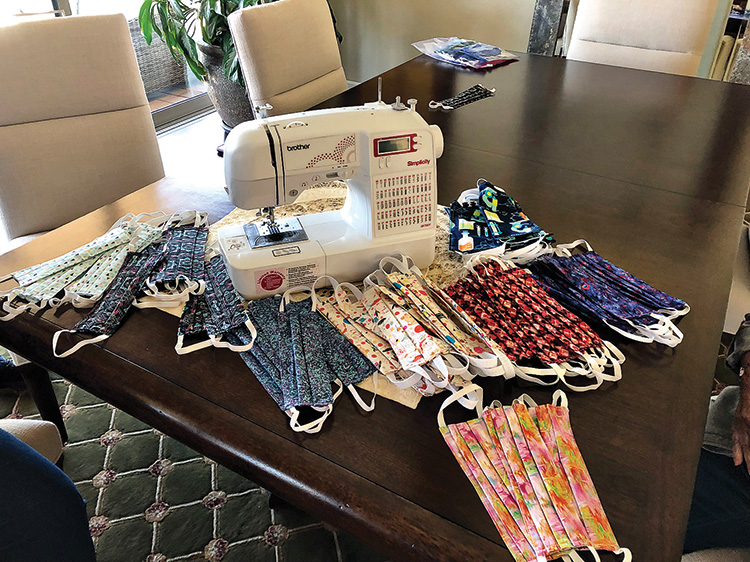 Ceil Levatino
It all started with a conversation with my primary care physician. He disclosed that his office was out of all PPE's. No face masks, gloves, or gowns. As a former critical care nurse, I couldn't stop thinking about the risk he and other medical professionals were taking. I felt the need to do something, but what? I can barely sew a button on! I put a message on Nextdoor and asked if any Ranchers would be willing to make masks, and I'd like you to meet the women who collectively made hundreds of masks that have been distributed to local medical personnel.
Mary Camper: Our love for AZ began when we made frequent trips to Tubac in the 80s. I was involved in community projects in the Kansas City area through ESA, and wanted to assist this important need of masks in Eloy and Casa Grande. We thoroughly enjoy our active life here at RR with family and friends.
Julie White: I moved here from the San Francisco Bay Area. I love to sew, had scraps of material that I'd been saving and was organizing, in my new spare time. Then I heard about making masks and wanted to help out, and also it was something useful to do with my time. Claudia Kimmelman gave me mountains of material and other supplies. I also want to thank the RR residents who responded to my request for elastic!
Rebecca McKinney: My husband and I moved from San Diego after over 30 years of Naval service. I enjoy helping others through making comfort items. As a member of the Material Girls sewing club, it is what we are all about. I have donated masks to multiple requests here at Robson Ranch, and hope that I can make a small impact on the need.
Crystal Friedrichsen: My husband and I grew up in rural Iowa but have lived all over the U.S. Sewing is a particular passion of mine, especially when I can use my skill to help someone in need, and I believe strongly in our responsibility to SOT and other veteran organizations.
Karen Dunn: We moved here from north Phoenix on Aug. 18, 2017. I wanted to help because it is vitally important to keep our medical people and first responders safe from exposure during this medical emergency.
Cindy Lopez: When my sister-in-law and cousin came to visit on March 11, we had no idea their visit would have no return date! Since we all sew, we volunteered to make cloth masks when our neighbor identified a need within the local medical and dental professionals. It has been a wonderful way to feel we are helping in some small way.
Alicia Mooney: I wear a mask myself during allergy season, and to protect me during our summer dust storms. So, when the Covid-19 virus started to spread, I knew the importance of how a face mask would be for the medical community and all residents.
If you see these amazing women please say thank you!