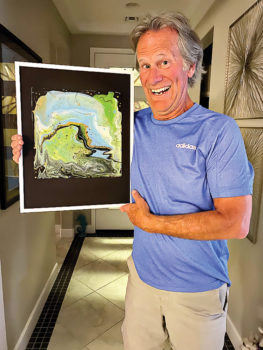 Jeana Capel-Jones
Marc Capel-Jones' creativity runs long and deep, touching every aspect of his life visually, verbally, and physically. This creativity started with his doodling at the age of eight. As an only child in Westport, Connecticut, he spent hours and hours drawing. It started when he put his pencil to paper and used his imagination to create cartoon characters and storylines about space, his friends, and high school antics. His characters were influenced eventually by underground comic artists Robert Crumb and Gilbert Shelton.
In his teenage years, Marc spent hours drawing with his friends. Not only were these friends creative in using the visual medium of cartoon drawing, but they were creative with the English language. This group of friends began playing rhyming games. When you meet Marc and listen to him, you hear this creative influence – he is very graphic in his descriptions of life and the stories he tells. He loves words and is constantly referring to the dictionary when reading the New York Times to find more descriptive words to use.
This creativity fed his talent for performing, whether he is teaching an art class on cartooning or years ago when he performed in summer stock theatre in Wisconsin. He is an all-around funny person.
Marc put this talent to good use when he attended the University of New Mexico and graduated with a degree in architecture. This artistic nature aided his career in architecture, construction, and remodeling. You can see his eye for detail and creativity when he designed plans for homes, landscapes, and pergolas.
The majority of his work has been in realistic settings. Now that he is retired, he is moving this artistic talent into a more abstract arena by playing with color, techniques, and mediums, discovering new ways to express himself visually and verbally. Moving to the hot and arid desert of Arizona from the beautiful Rocky Mountains of Colorado has opened his eyes and mind to new ways of expressing himself. Retirement allows him to use his creative talent in more abstract ways and simply to have fun with art.