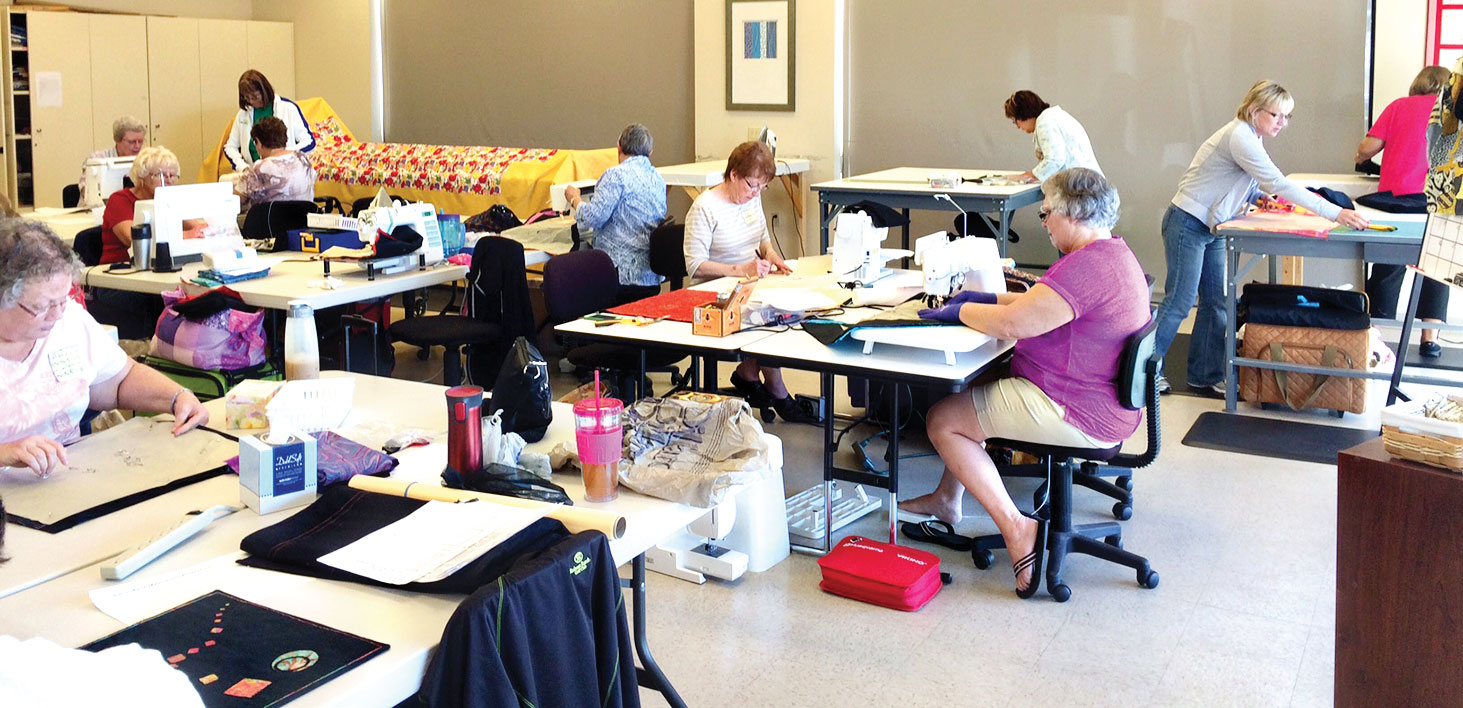 February is known as the month of romance. True to the spirit of love and romance Robson Ranch Material Girls have had a busy February romancing their fabrics and turning them into quilts! Classes were full and we learned some great techniques! Mock Mola was one of our most popular classes drawing on our minds to create some artistic designs and then putting them to fabric. Very good leadership by Mary Syer. We had another popular event, a Quilt Til You Wilt where we start in the afternoon and sew until we are too tired; each person completed one block and we had another quilt top done! Disappearing 4-patch was taught by Peg Salo, a pretty easy block when you know how to do it. Again, we all worked on our techniques with this block. Then the Sergers were brought out and Patty Foley taught some of us a technique to make a head turban. Melody Peebles had two classes on making a jacket from a sweatshirt, lots of creativity there and oh, the colors! Of course, we had a Long Arm certification class for some of our newer members wanting to learn that. Members are encouraged to use their new learnings to make and quilt a charity quilt. We will do a shop hop in March—as if any of us need any more fabric! But we are trying to help the economy.
For those who are not familiar with the Robson Ranch Material Girls, here is a little about us. We welcome all residents and their house guests to join us. You can visit for two times before we collect your dues, which are $20 per year. With that money, we purchase fabric and supplies to make comfort and charity quilts. Comfort quilts are given to our own Robson Ranch residents who have a serious illness or lose a spouse. Please contact Bea Pressler 520-858-5379 if you know of someone you feel might need one. This year, our charity is The Ironwood Chemo Center which one of our members had used a few years ago.
Our 2015 fundraiser is a queen sized quilt called 'Natures Jewels'. We are selling tickets for it—stop by the CAC and see it. It's absolutely gorgeous! Tickets can be purchased from us in the CAC Studio 2 or from Dottie Welsh at 520-705-1667 or Bea Pressler 520-858-5379.