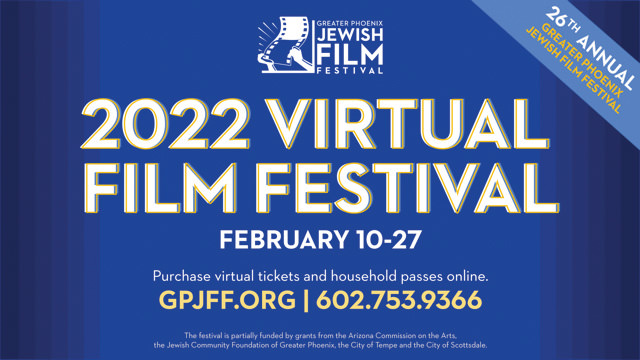 Deborah Muller
Every ticket is a reserved seat as the 2022 Greater Phoenix Jewish Film Festival streams virtually over 18 days.
For more than a quarter of a century, the Greater Phoenix Jewish Film Festival has celebrated Jewish culture through film, bringing an exciting lineup of films to Arizona honoring Jewish traditions and heritage. From Feb. 10 through Feb. 27, the 26th annual Greater Phoenix Jewish Film Festival will screen films showcasing the best of Jewish life, history, and heritage. Due to ongoing health and safety concerns, the film festival will once again be held virtually.
Currently, the longest-running film festival in the valley, the Greater Phoenix Jewish Film Festival celebrates its 26th year by presenting more great films that make our festival even bigger and better—almost 3,400 minutes of Jewish cinema from dozens of different countries! Rejoice in this popular annual event with over 30 feature-length and short films ranging from defiance and revenge, to fun and adventure, and to laughter and love, with something for everyone and stories that engage both mind and heart. Via just about any device, computer, or smart TV, the audience can travel from the beaches and shuks (markets) of Israel to the back lots and soundstages of Hollywood, from a tropical farm in Brazil to the witness stand of the United States Supreme Court, from the limestone hills of the island of Majorca to multiple villages and towns of wartime Europe.
Using innovative technology, the virtual festival allows participants to build a flexible, customized plan to see every film. Post-film interviews with filmmakers and experts on a film's subjects will be held seamlessly after many screenings.
For more information on the festival, or to purchase tickets on Jan. 17, go to www.gpjff.org. You can also follow the festival on Twitter @GPJFF or on Facebook at www.facebook.com/GreaterPhxJewishFilmFest.
What: 26th annual Greater Phoenix Jewish Film Festival
When: Thursday, Feb. 10, through Sunday, Feb. 27
Where: Virtually
How to Buy: For more information or to purchase tickets, go to www.gpjff.org on Jan. 17.
Ticket Prices (each ticket is good for one household):
$13 for individual household film ticket
$65 for household six-pack of tickets
$225 for household Festival Pass
Viewers will have three days to watch each film, with the ability to pause, rewind, and even switch devices within the home.