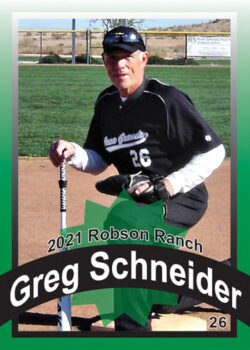 Ken Muhlbeier
Before he was honored as an Honorable Mention All American linebacker, and before he was named to the All-Century Team at the University of North Dakota, Greg Schneider was a concession boy carrying a cooler and selling ice cream sandwiches at his father's softball games in Grand Rapids, N.D.
"The problem was, I owed more for eating the product than I made by selling them," Greg said.
Watching his father play softball was one of his earliest and fondest memories.
"Football and basketball were my main sports when younger. In high school I was captain of both sports and was quite honored to be chosen for my high school hall of fame."
More honors would follow Greg in college playing football at U.N.D.
"After college I played two years of semi-pro football in the Central States Professional Football League for the Madison Mustangs," he explained.
Marriage ended Greg's years of playing football as the call to return to his roots in North Dakota brought him home.
Softball really didn't become an important activity for Greg until after college.
"I started my softball career as a pitcher on a fastpitch team with a bunch of my buddies," he said.
With the birth of the first of his five children, diapers became more important than double-plays and softball took a back seat to family life.
"Years later, in my 40s, I picked up a softball career again when my two sons wanted to start a team. I had to buy the uniforms and sponsor the team so I told them I would sponsor them but I got to be the pitcher."
That arrangement worked until Greg took a line drive off his leg that sidelined him for months.
"After that, wife Kathy and the boys decided it was too dangerous for me to continue and I was kicked off my own team," Greg said.
A variety of athletic activities filled the void for Greg including noon basketball games at the YMCA, bowling, and adult hockey where he received tips from his sons.
"Our three daughters were dancers and I was blessed to be able to perform with all three of them at their senior recitals in the father-daughter dance," he reminisced.
After moving to Robson Ranch, Greg, like so many of his teammates, quickly became involved in senior softball and was immediately hooked on the game.
"I phoned Tom Harris and he invited us to play mixed-couples tennis in the morning and that afternoon I was on the softball field. Kathy and I feel so fortunate to be living at Robson Ranch and participating in all the activities and sports here. The camaraderie of the softball guys has been such a rewarding experience for me."
The softball club greatly appreciates everything Greg brings to our group. He is an important and positive influence on those around him and can be counted on to encourage and enliven all situations. We hope he has many more years of softball fun.