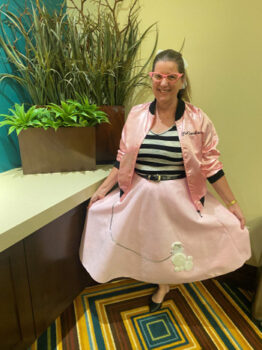 Pat Sand
The Ropin' in Yer Relatives Genealogy Club kicked off the 2021–22 season on Tuesday, Nov. 2, by going back to the '50s. Bonnie Bossert, a genealogist from the Phoenix area, presented on the 1950 Census. Bonnie was informative as well as entertaining. She dressed for her role in a 50's style poodle skirt, cat eye glasses, and a silky pink bomber jacket.
The 1950 Census will be available on April 1, 2022. Bonnie indicated that the census focused on work habits and naturalization of residents. This census was the first time computers were used to calculate statistics and also the first time a census was mailed. Another first was the option for residents to indicate if they were divorced, separated, or never married.
She encouraged members to go to the U.S. Census Bureau website for additional information at www.census.gov/en.html and search 1950.
The Robson Genealogy club meets the first and third Tuesday of every month, November through March, at 7 p.m. in the Laredo Room. For more information, email Pat Sand at [email protected]