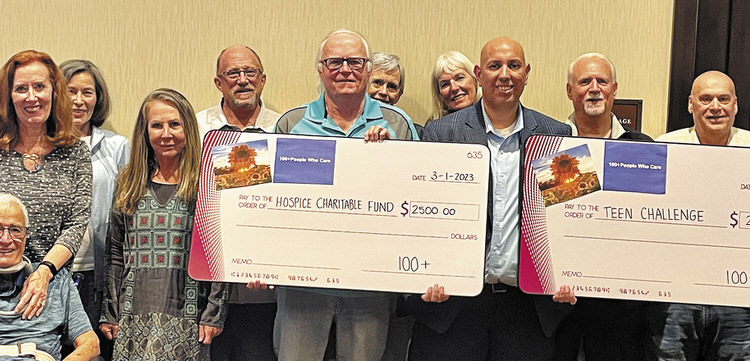 Lisa Hunt
A special thank you goes to all who attended and contributed to the 100+ People Who Care Charity Event held on March 1 here at Robson Ranch. The one-hour event raised a total of $5,825 for two local nonprofits.
We were pleased to have Micah Powell, the Mayor of Eloy, present contributions to both the Hospice Charitable Fund of Casa Grande in the amount of $2,700 and to Teen Challenge—Home of Hope in the amount of $3,125 from the generous people who contributed to this year's 100+ event. Thank you for contributing and making a difference in our community!
Save the date for our next fundraising event: Wednesday, Nov. 15, at 11:30 a.m.
Join us for lunch at the Ranch House main dining room and hear presentations from the nominated charities. After the presentations, participants will write checks to their favorite nominee for $100. Our goal: 100 people donate $100 for a total of $10,000!
In the last three years, several local charities have participated and benefited from 100+ People Who Care: Valley Humane Society, The H.O.P.E. Coalition of Eloy, Seeds of Hope, St. Vincent de Paul, The Boys and Girls Club, Against Abuse, Civil Air Patrol, and the Santa Cruz Food Bank.
Members of 100+ People Who Care may nominate their local charity of choice. For more information about joining 100+ People Who Care or to nominate a charity, please contact a steering committee member:
* Tom Moyer at 602-538-9680 or [email protected]
* Lisa Hunt at 218-330-5936 or [email protected]
* Ed Brown at 602-321-3570 or [email protected]
* Debbie Wallace-Laurer at 562-544-0094 or [email protected]